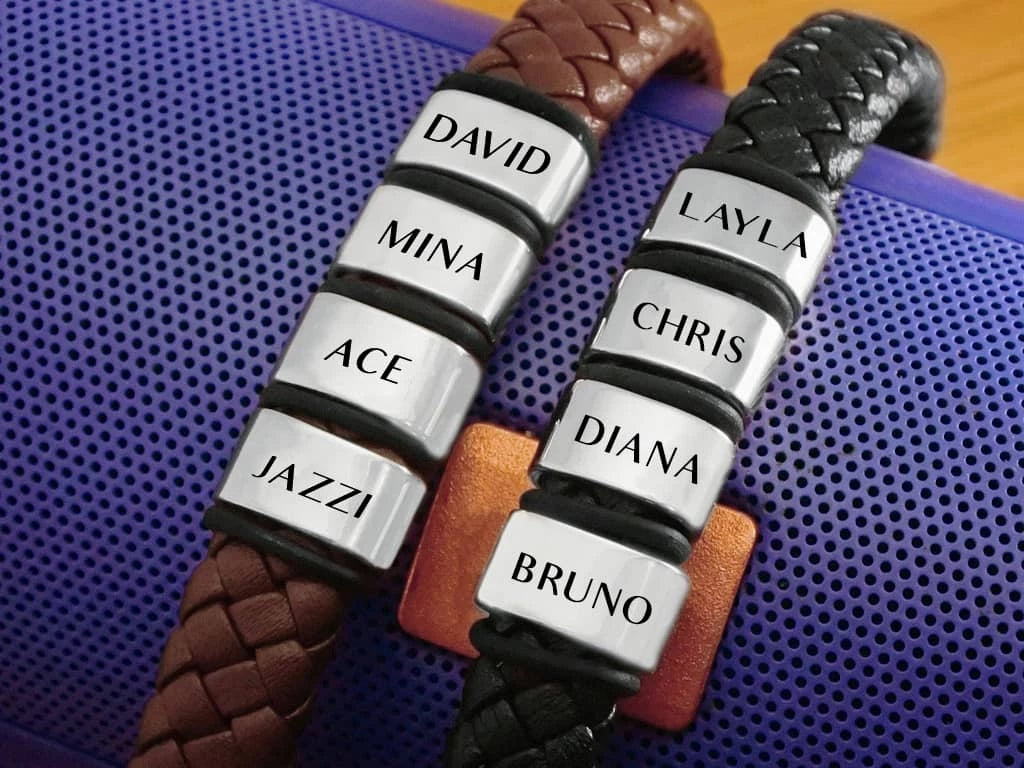 The Best Gift For Him
Dad deserves to be treated special, so buy him a Personalised Leather Bracelet and get a FREE Personalised Dog Tag!
FREE Father's Day Gift: 3 Simple Steps
Step 1

Place the FREE GIFT Dog Tag Necklace in your shopping cart. Price will be updated to free when you complete Step 2.

Choose a default inscription that suits you
NOTE: If you want your own custom inscription, please select the CUSTOM option and place it in the order notes
Step 2

Add the Personalised Leather Bracelet to your cart
Step 3

Complete the checkout process
Free Gift Inscription Options

Below are the FREE GIFT default inscription selections:

Default 1 Inscription: "A son's first hero, a daughter's first love. Happy Father's Day"

Default 2 Inscription: "Forever grateful for your love and guidance, Dad."

Default 3 Inscription: "Walking in your footsteps, inspired by your strength."

Default 4 Inscription: "To the man who taught us how to dream and soar."

Default 5 Inscription: "Your wisdom is our family's greatest treasure."

Default 6 Inscription: "In every way, you've shaped generations of love."

Default 7 Inscription: "From your loving son, carrying your legacy forward."

Default 8 Inscription: "With love from your daughter, your kindness lives on."

Default 9 Inscription: "Husband, father, and friend – you're our world."

Default 10 Inscription: "Grandpa, your stories are the heartbeats of our family."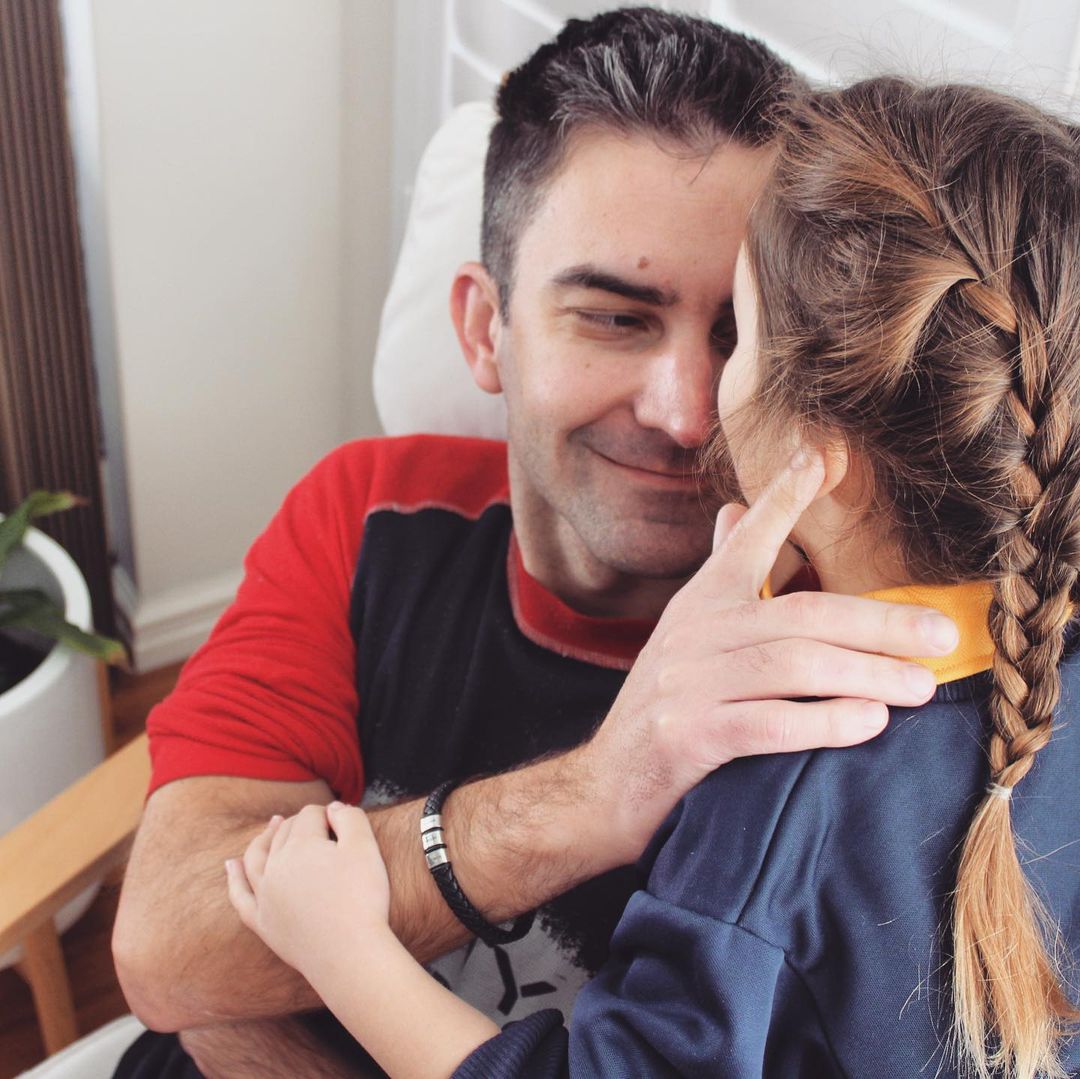 A Unique And Stylish Way To Show Your Loved One How Much You Care
You can personalise your bracelet with names, dates, symbols and messages. As your family grows and you capture more moments in life together, you can add to the bracelet, making it a truly special keepsake. Made to last, he can wear bracelet every day as a reminder of your love. Get a matching bracelet for you as they are perfect for both males and females.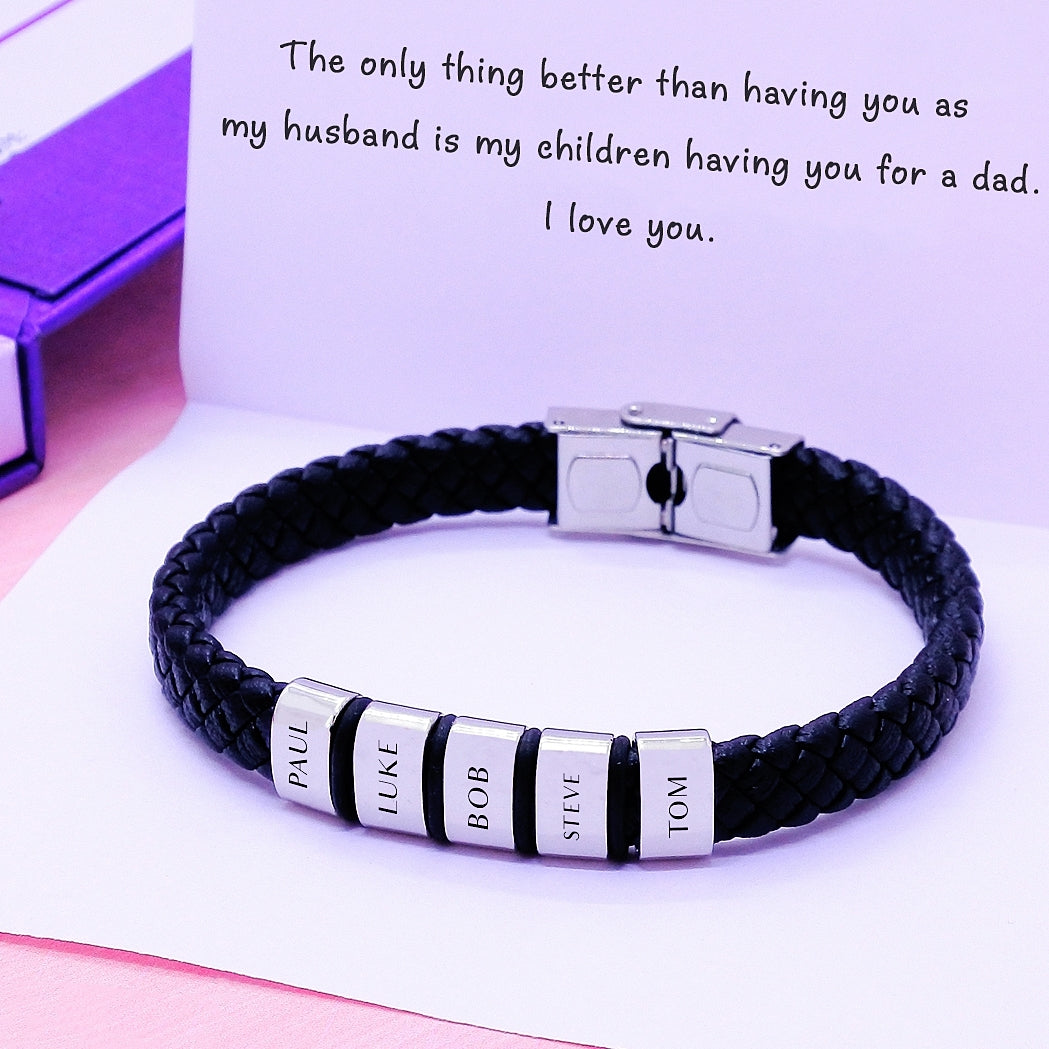 Find The Perfect Gift For Dad This Father's Day
What could be a more perfect way to show your dad how much you love him than with a Personalised Leather Bracelet from you? This Father's Day, give your dad the gift of a lifetime with a bracelet that can be personalised with charms to keep loved ones close to his heart. With this unique gift, he'll always have a reminder of how much you care. Order now and you'll even receive a Free Personalised Dog Tag! So don't wait, show your dad how much you love him today with a Personalised Leather Bracelet.
Ordering Personalised Jewellery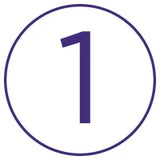 Choose a Design
Browse our range of unique designs from classic to modern, simple to extravagant, one-of-a-kind pieces or explore our customer gallery for inspiration.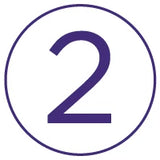 Select Your Tone
Create your perfect personalised piece by choosing from our wide selection of colours and tones available in gold, silver and rose gold finishes that is truly timeless.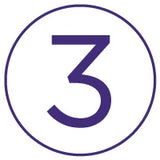 Personalise It!
The fun part - pick up where we left off with text inscriptions, birthstones and more to make this piece all yours!
23,000+ Five Star Reviews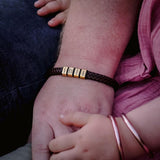 ★ ★ ★ ★ ★
"Such a good bracelet got for my husband with our kids names on it, he wears it all the time"
- Tahlia D.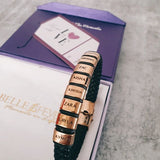 ★ ★ ★ ★ ★
"How perfect was this gift for the male figures in my children's lives the best personalised gift :)"
- Rutger T.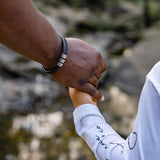 ★ ★ ★ ★ ★
"Great product was very happy, communication was amazing, always ready to assist.. would highly recommend this company for service, and quality products."
- Marian Y.
Personalised Jewellery With a 100% Love It Guarantee
We've got your back. That's why every piece of personalised jewellery comes with our 100% love it guarantee. If you don't absolutely adore the way your new custom designed ring, necklace or bracelet looks, we'll work with you on your design until you do.
Let customers speak for us