Get Two For The Price Of One With A Personalised Signature Name Necklace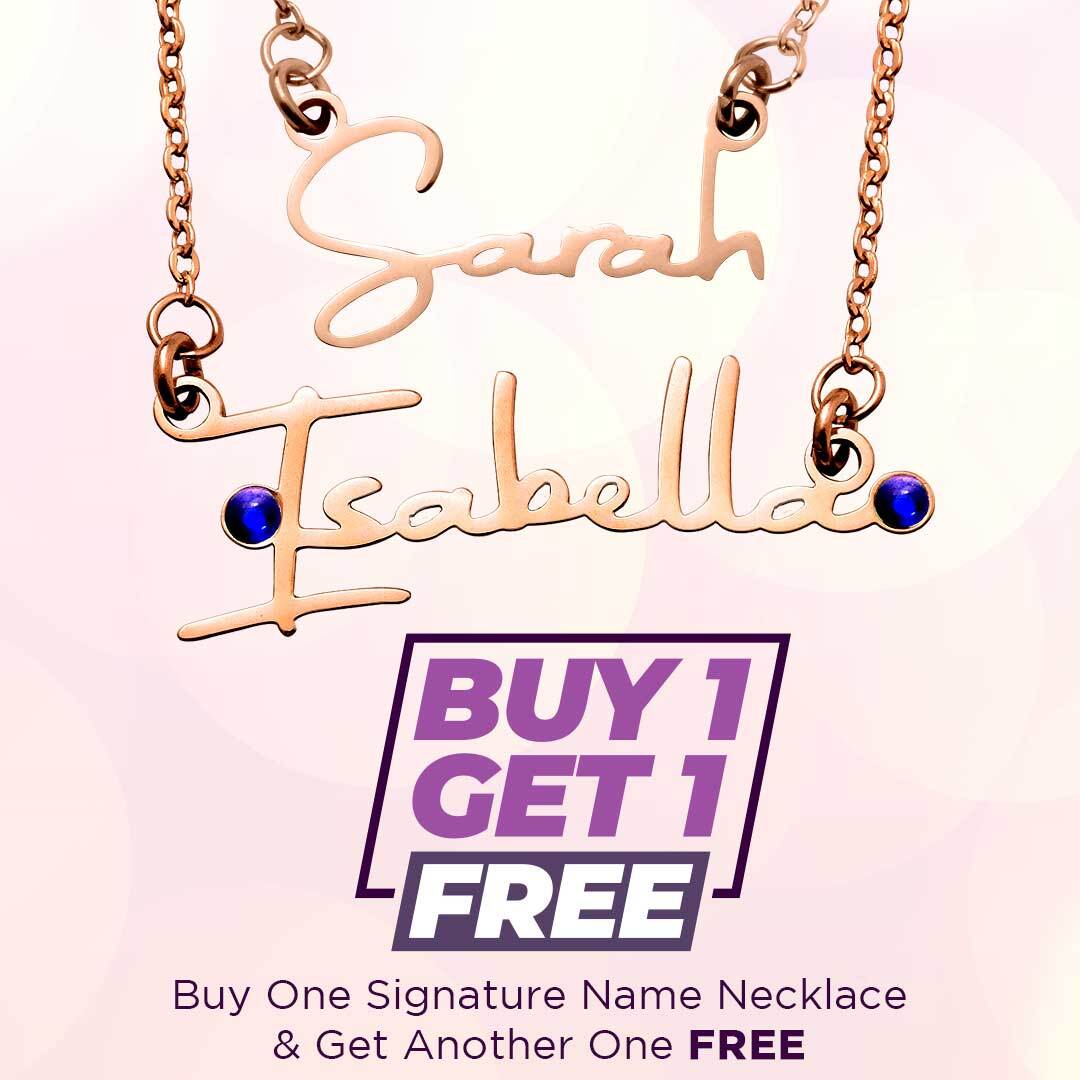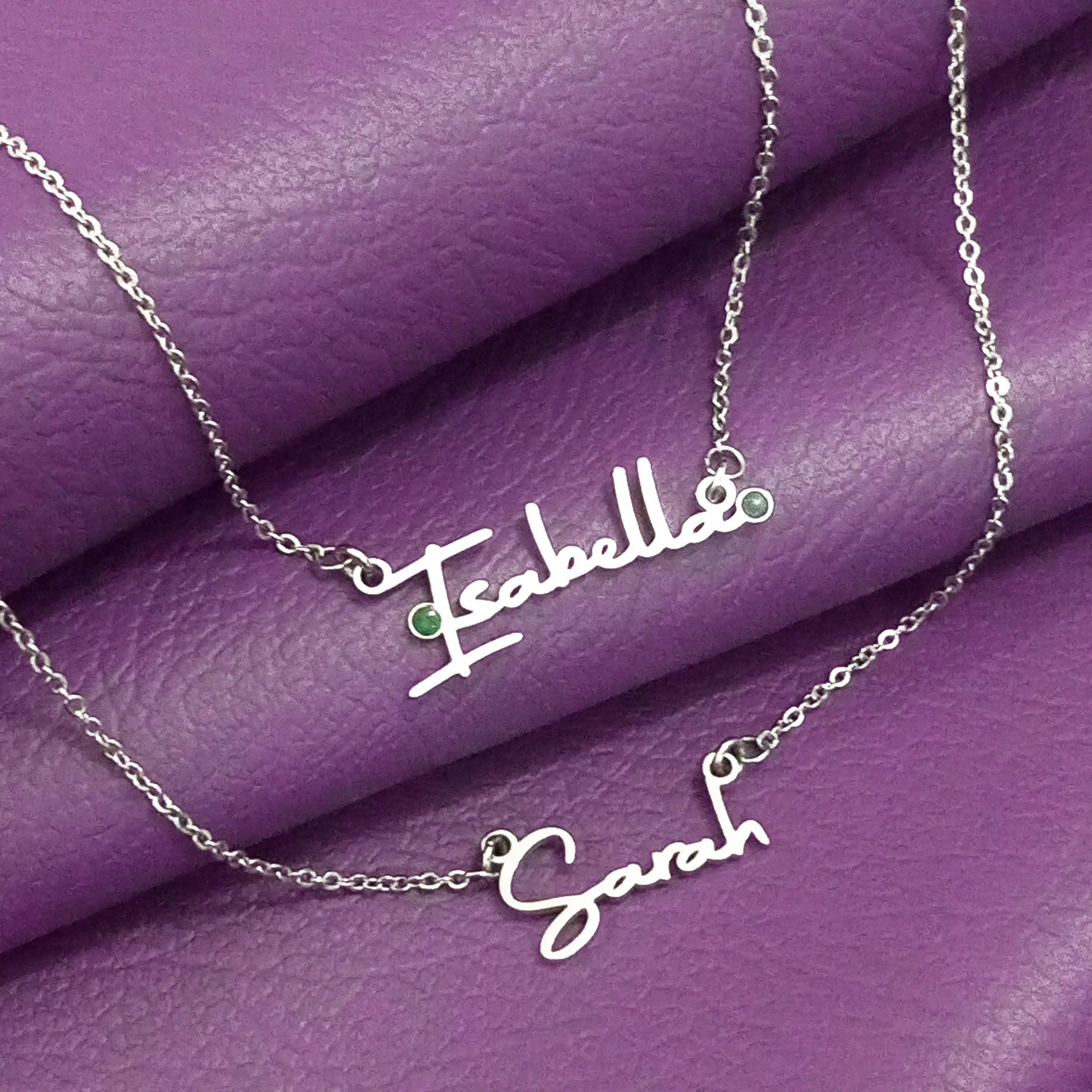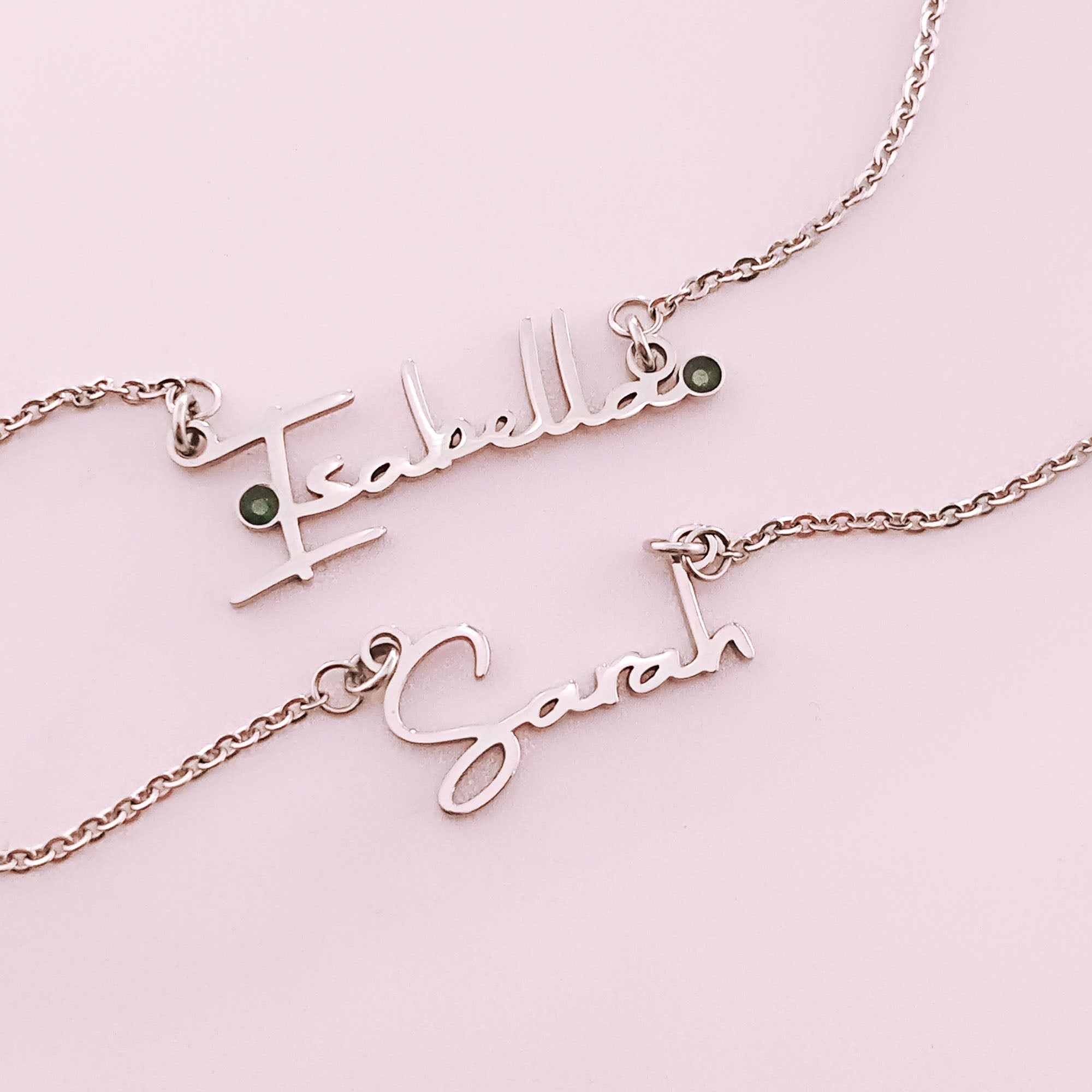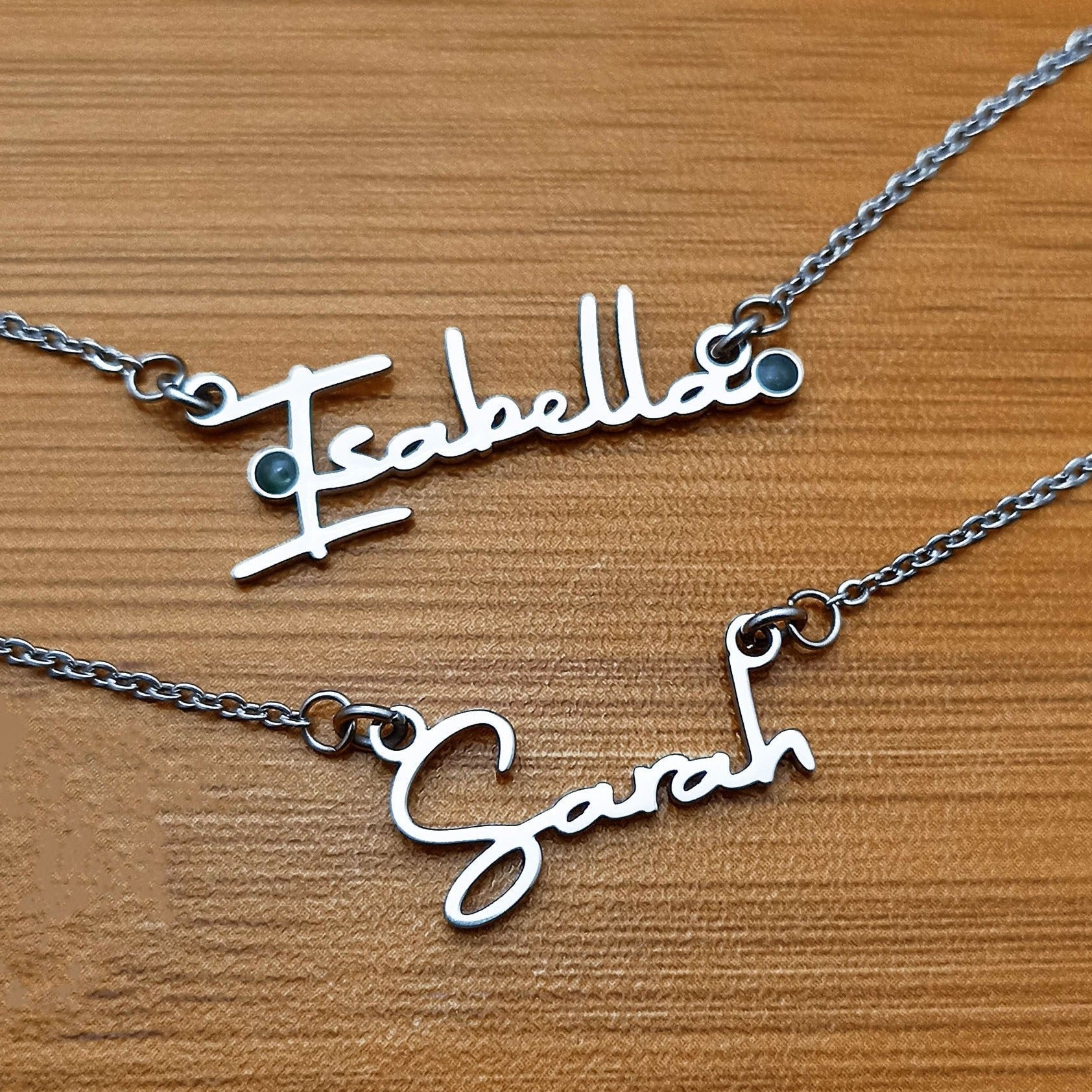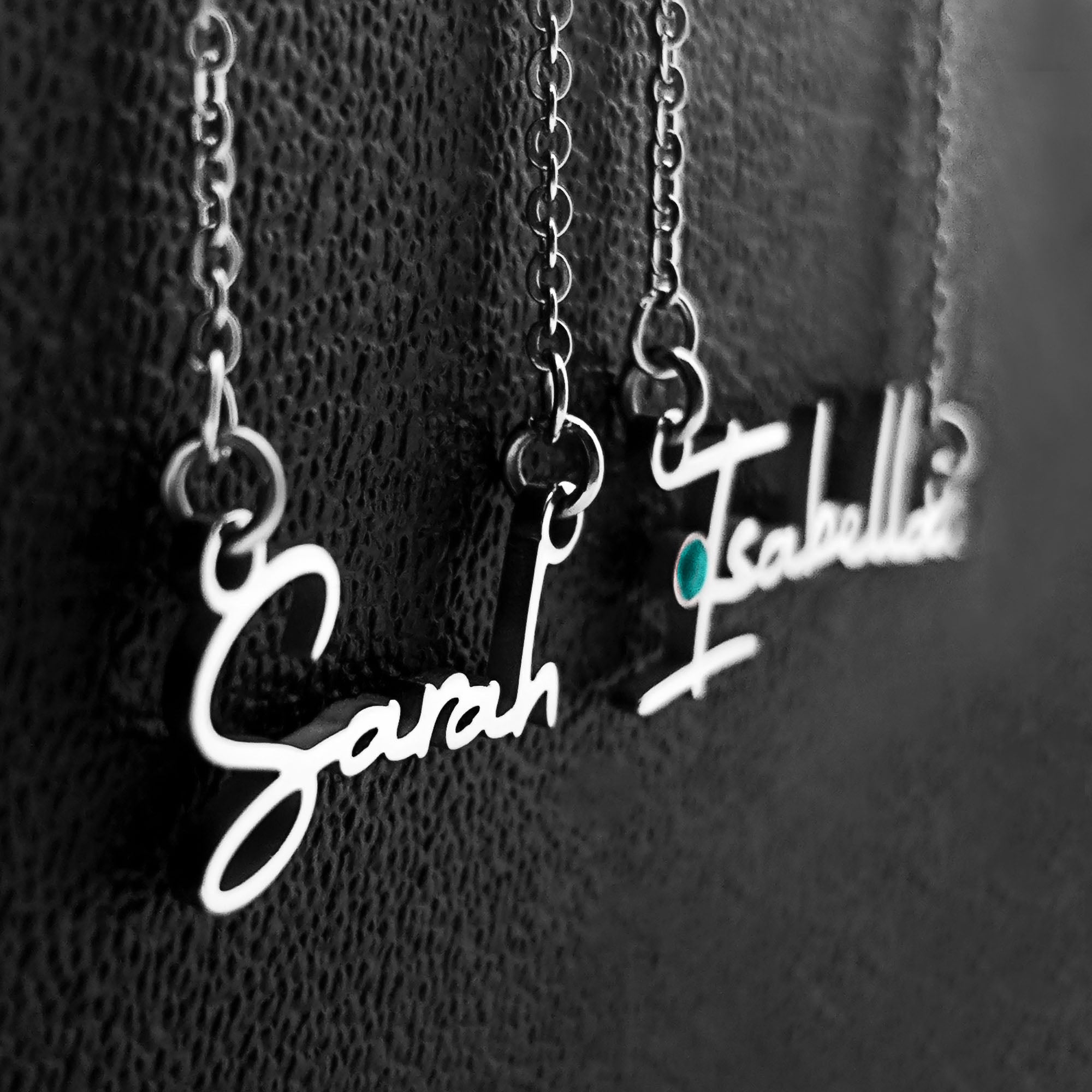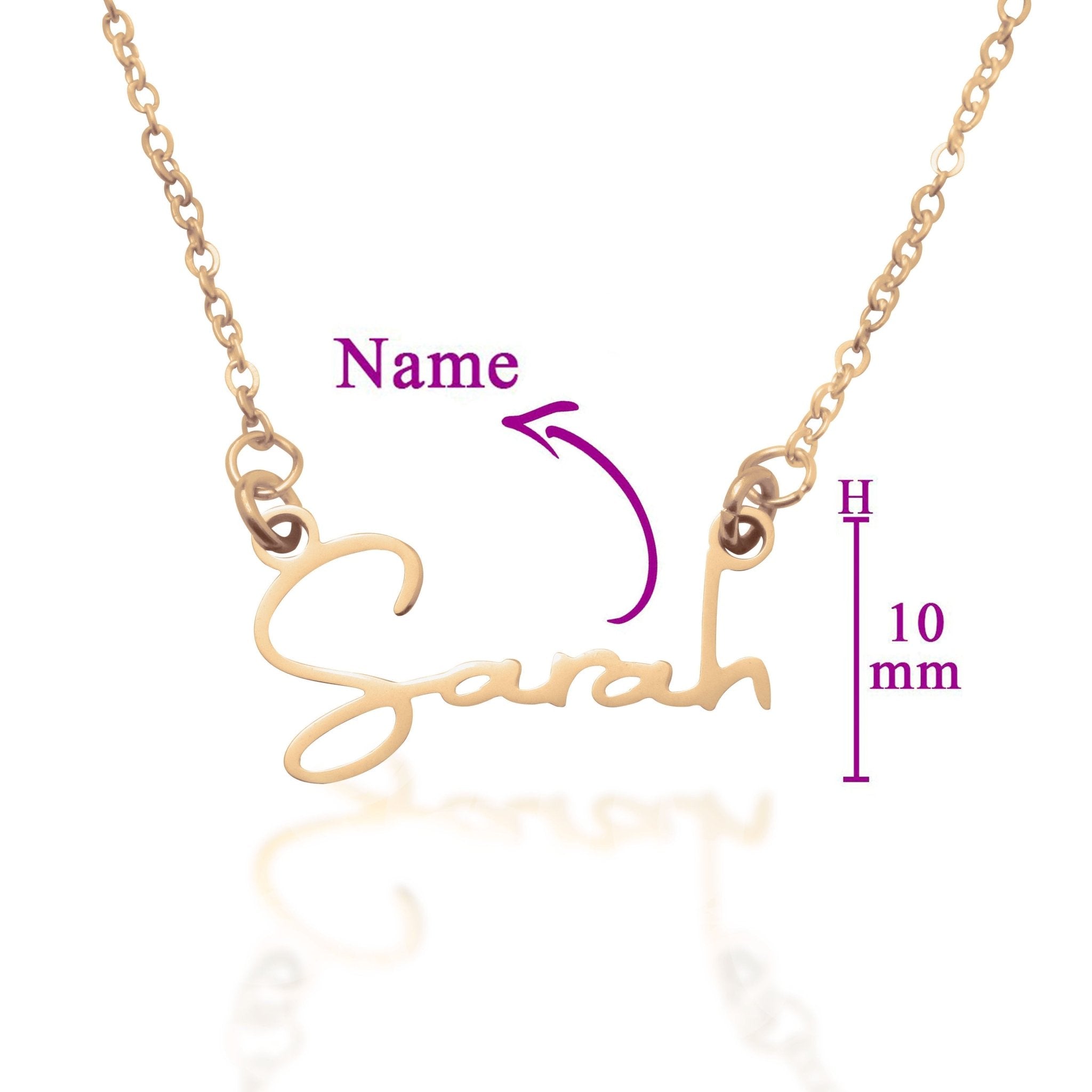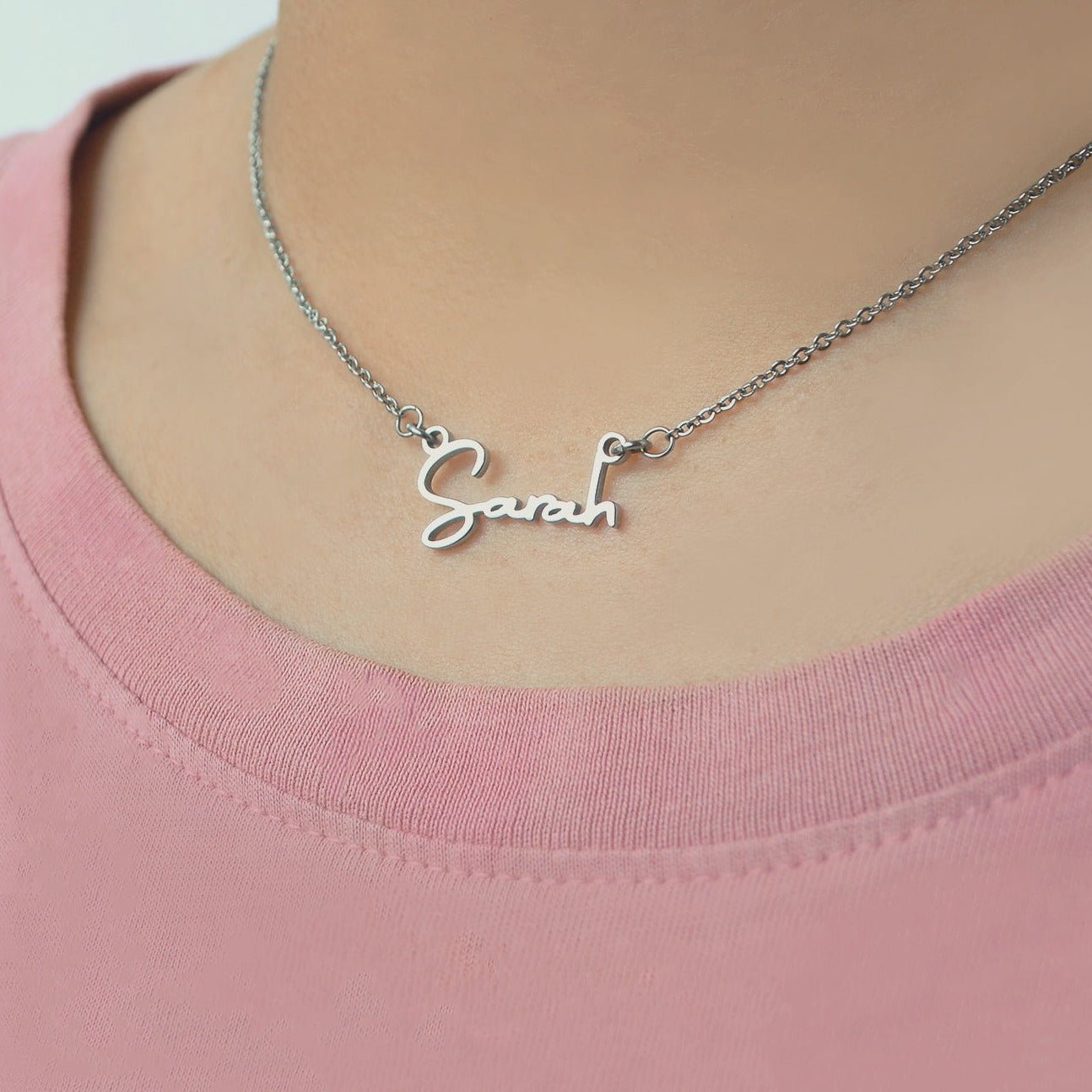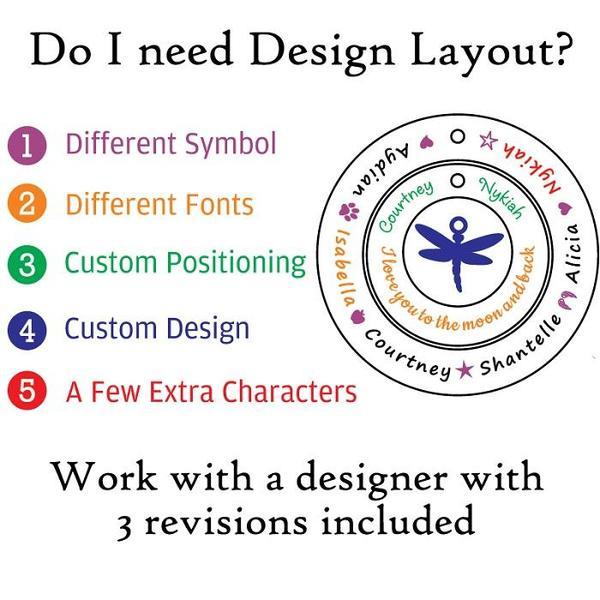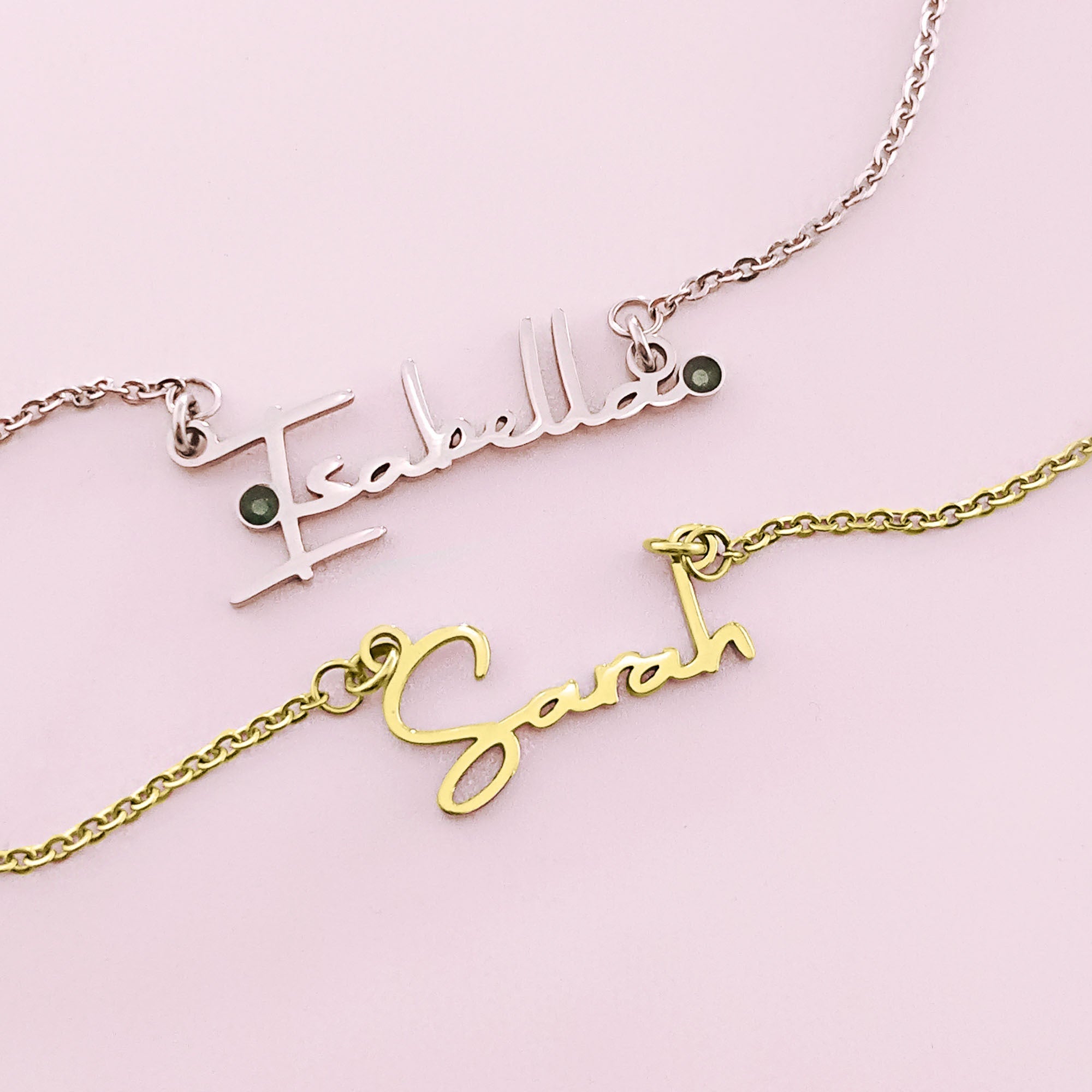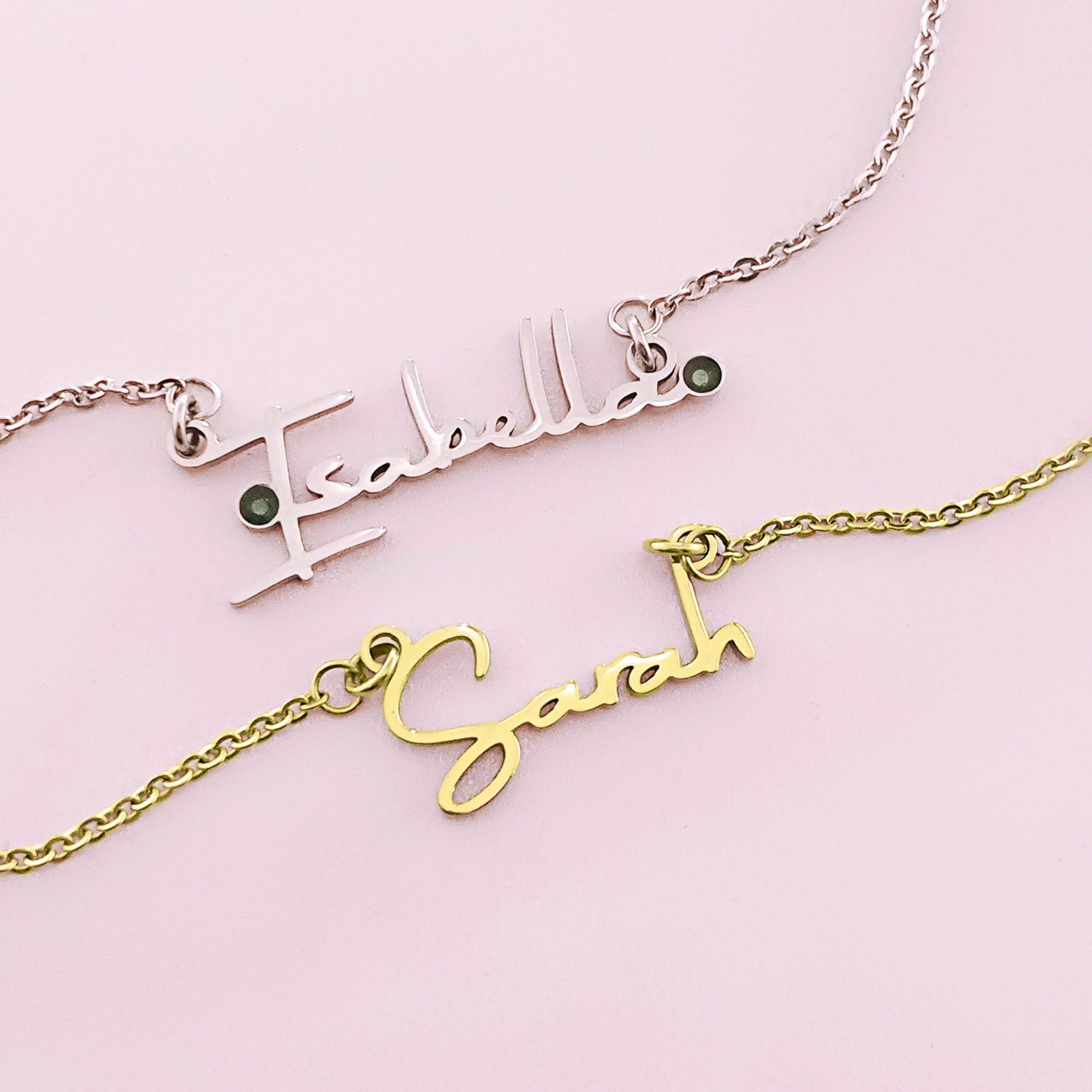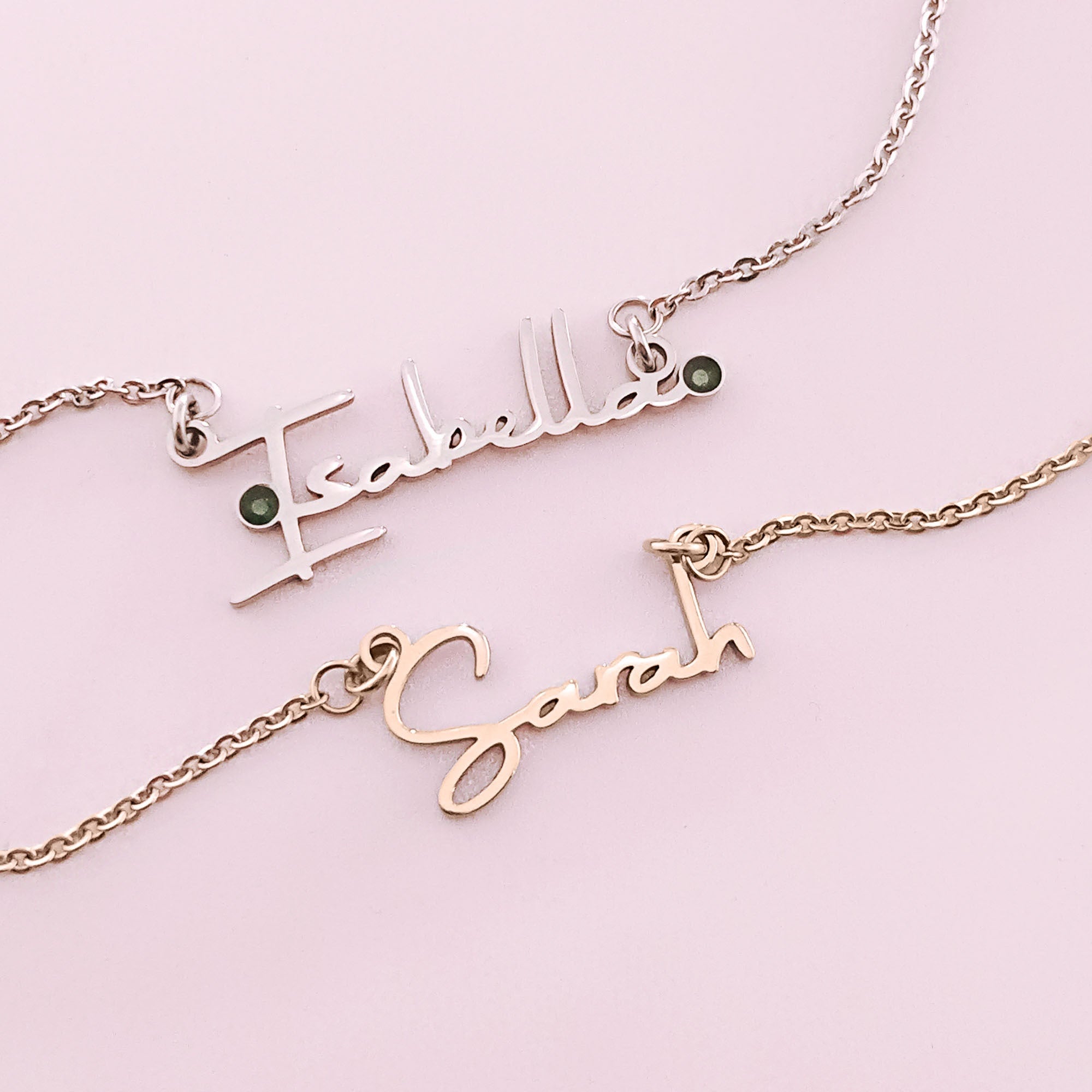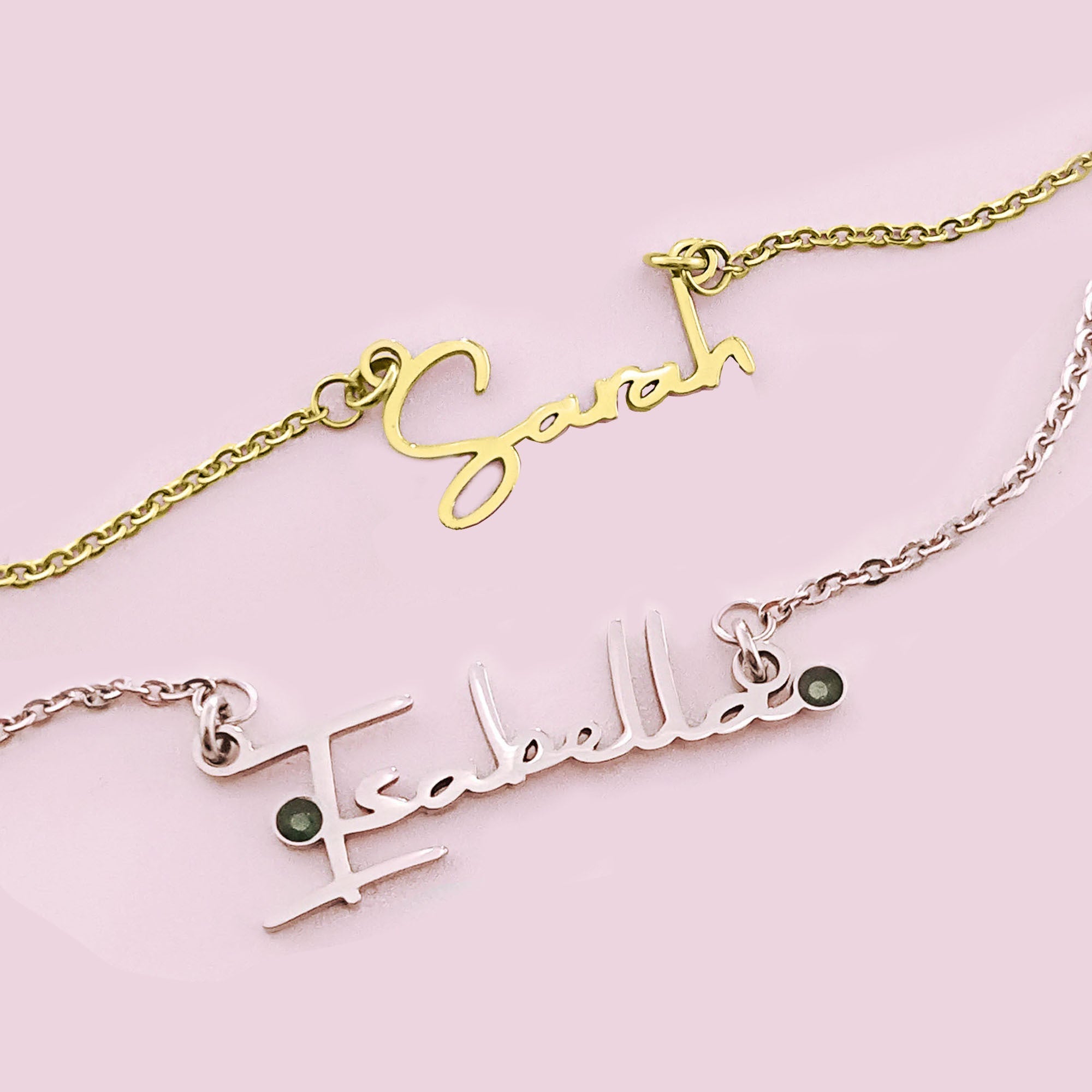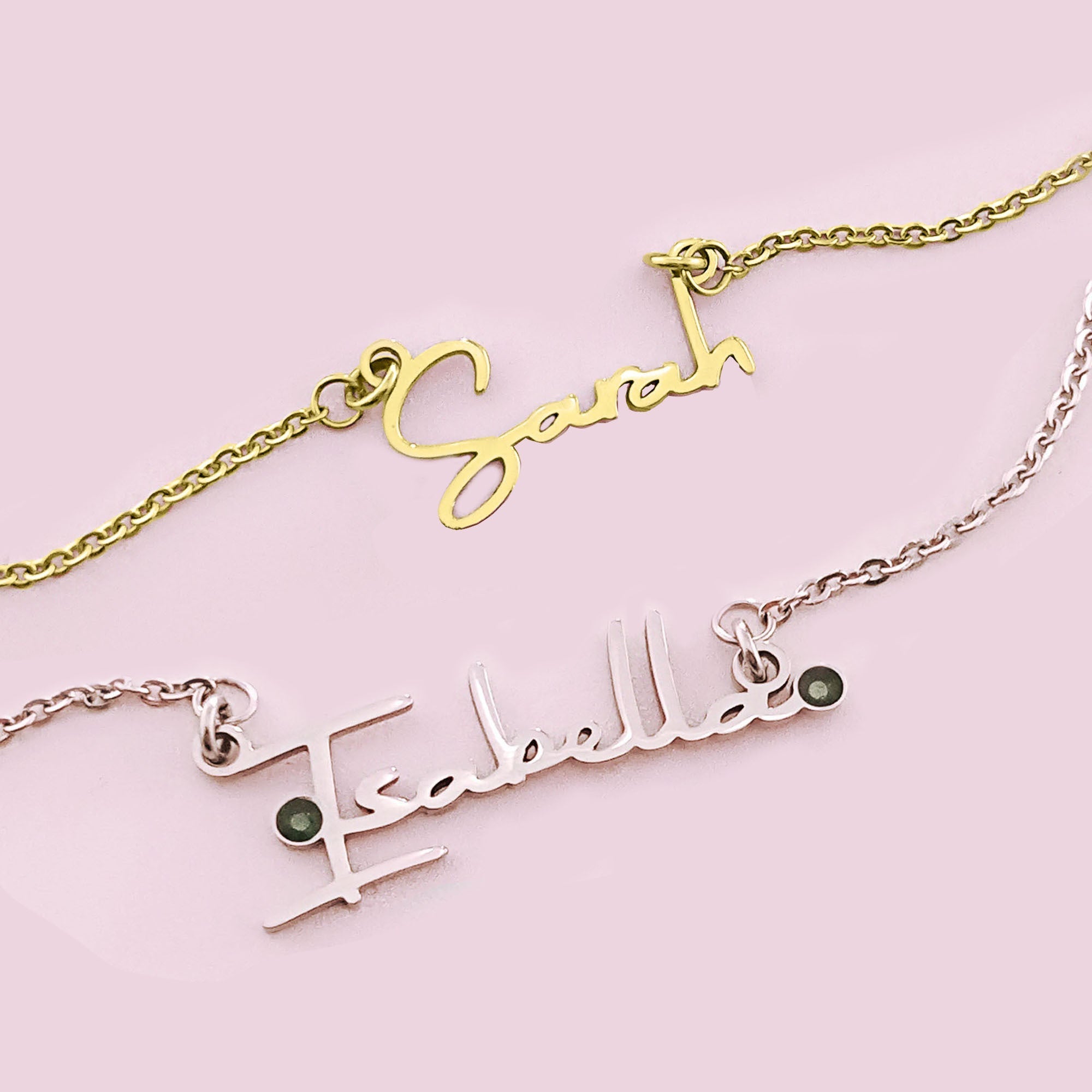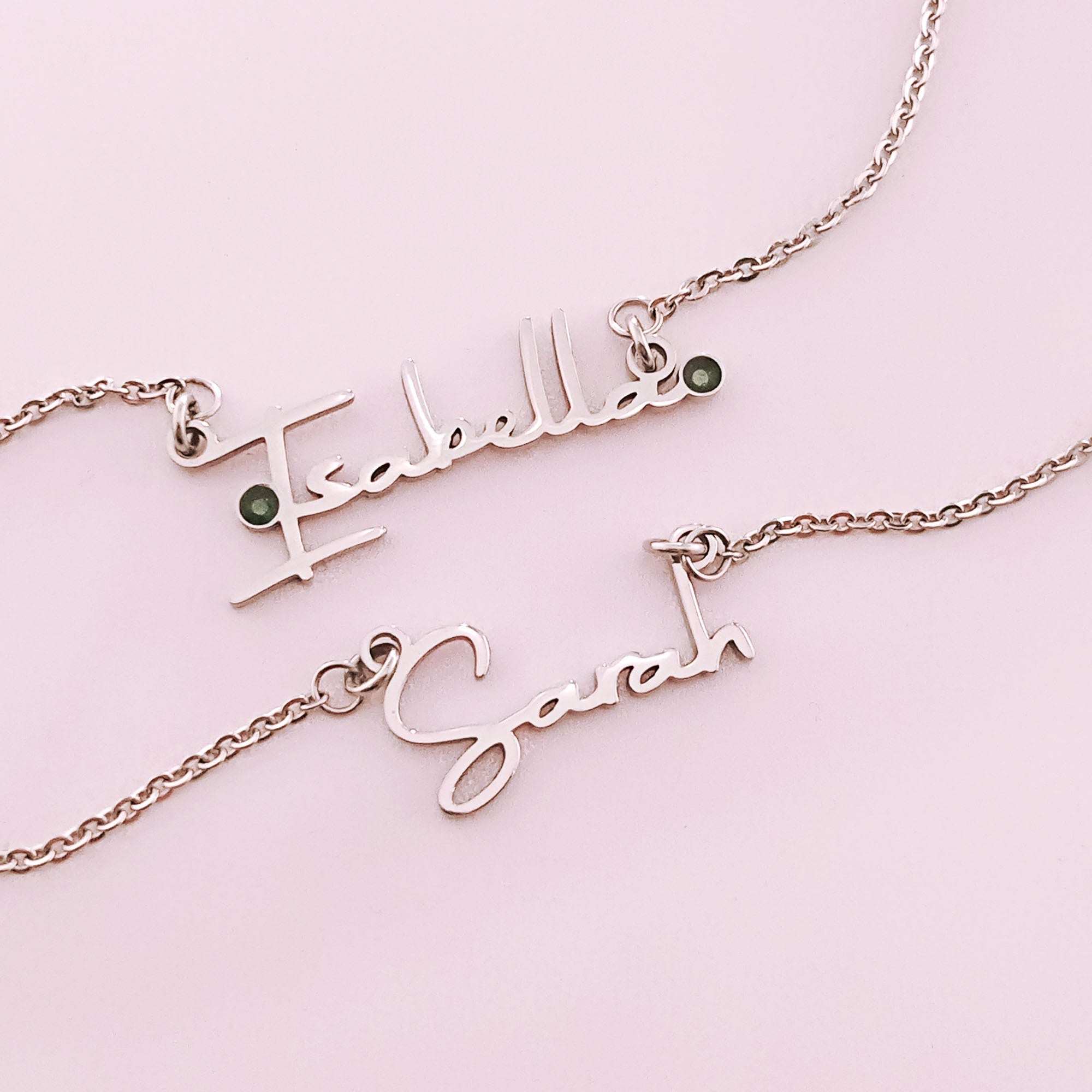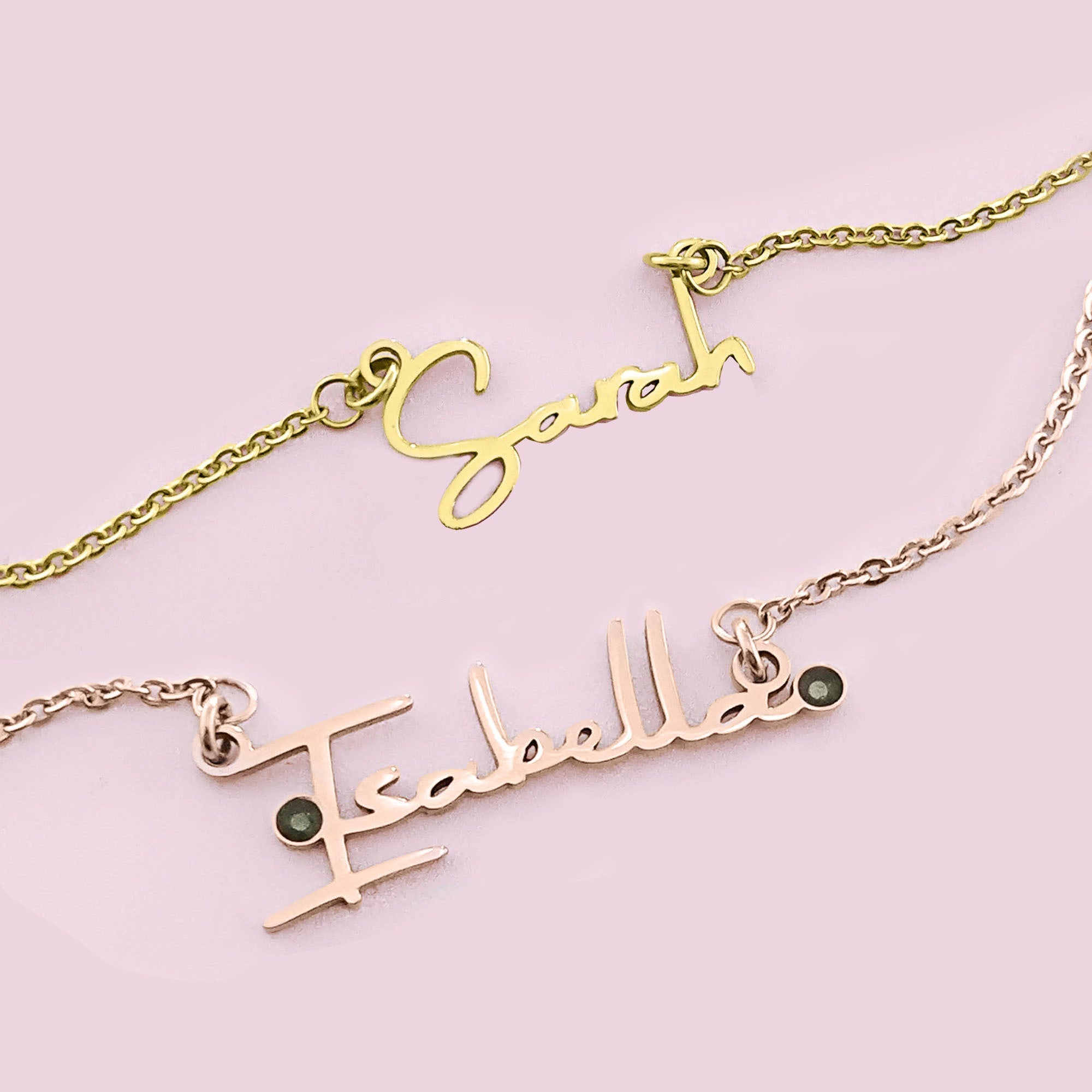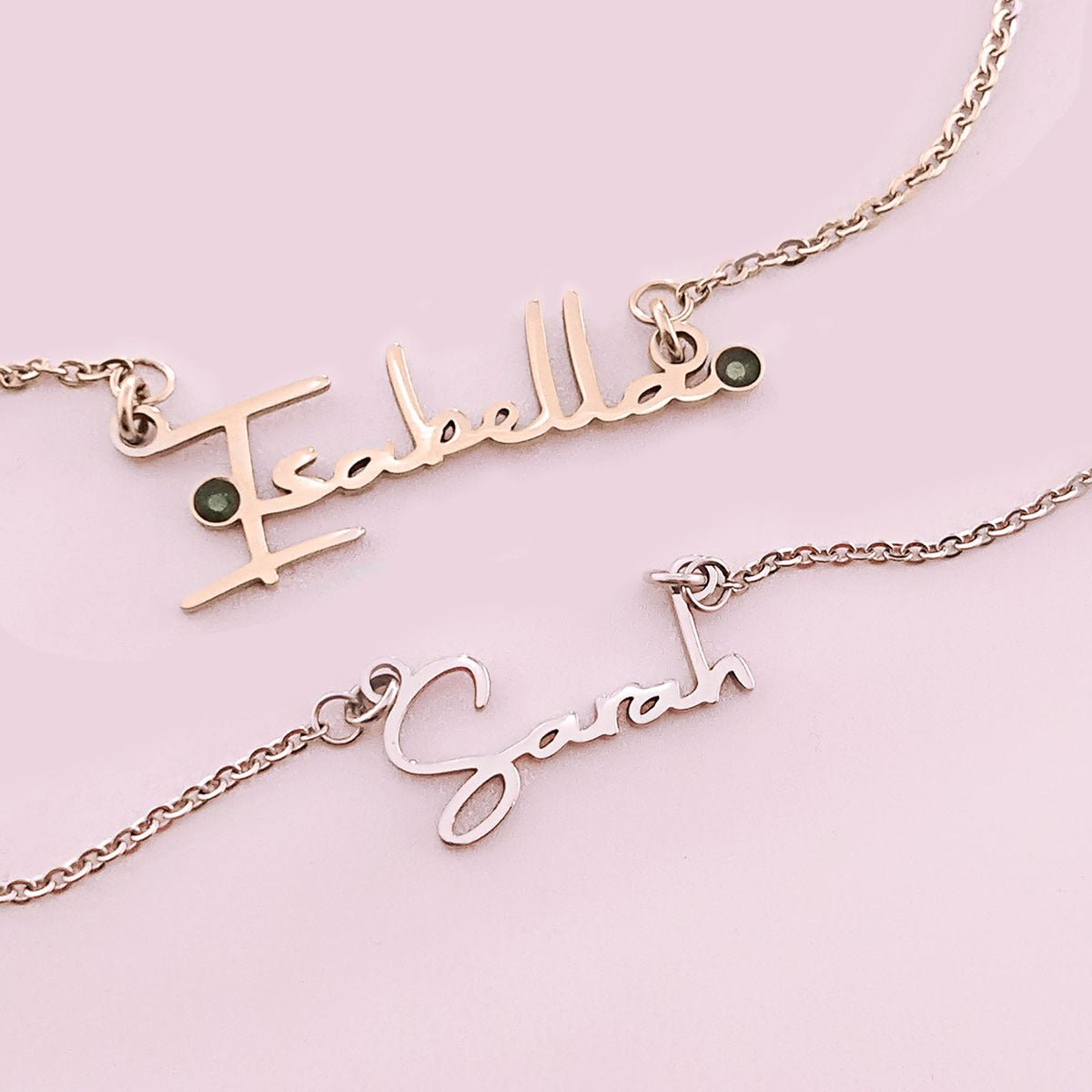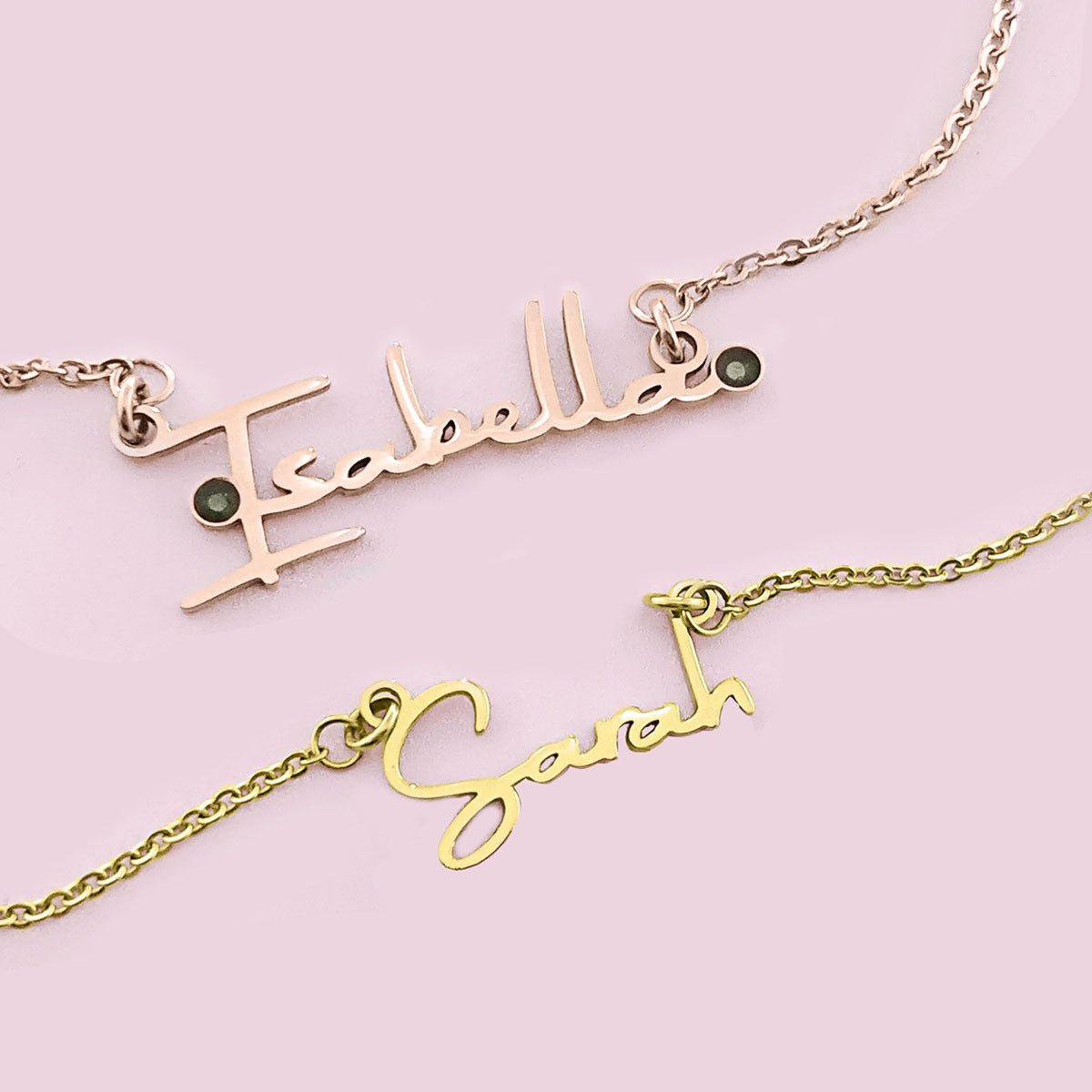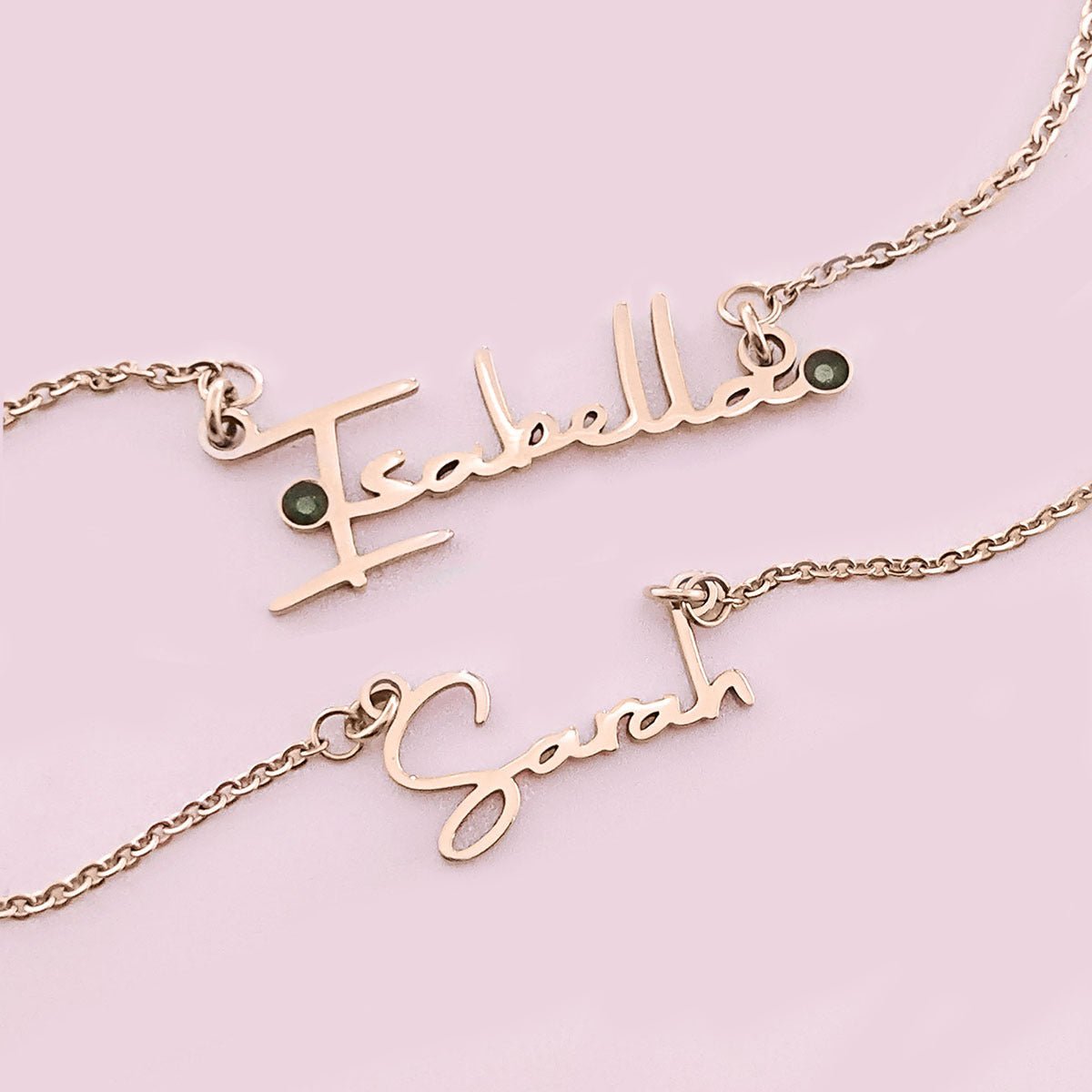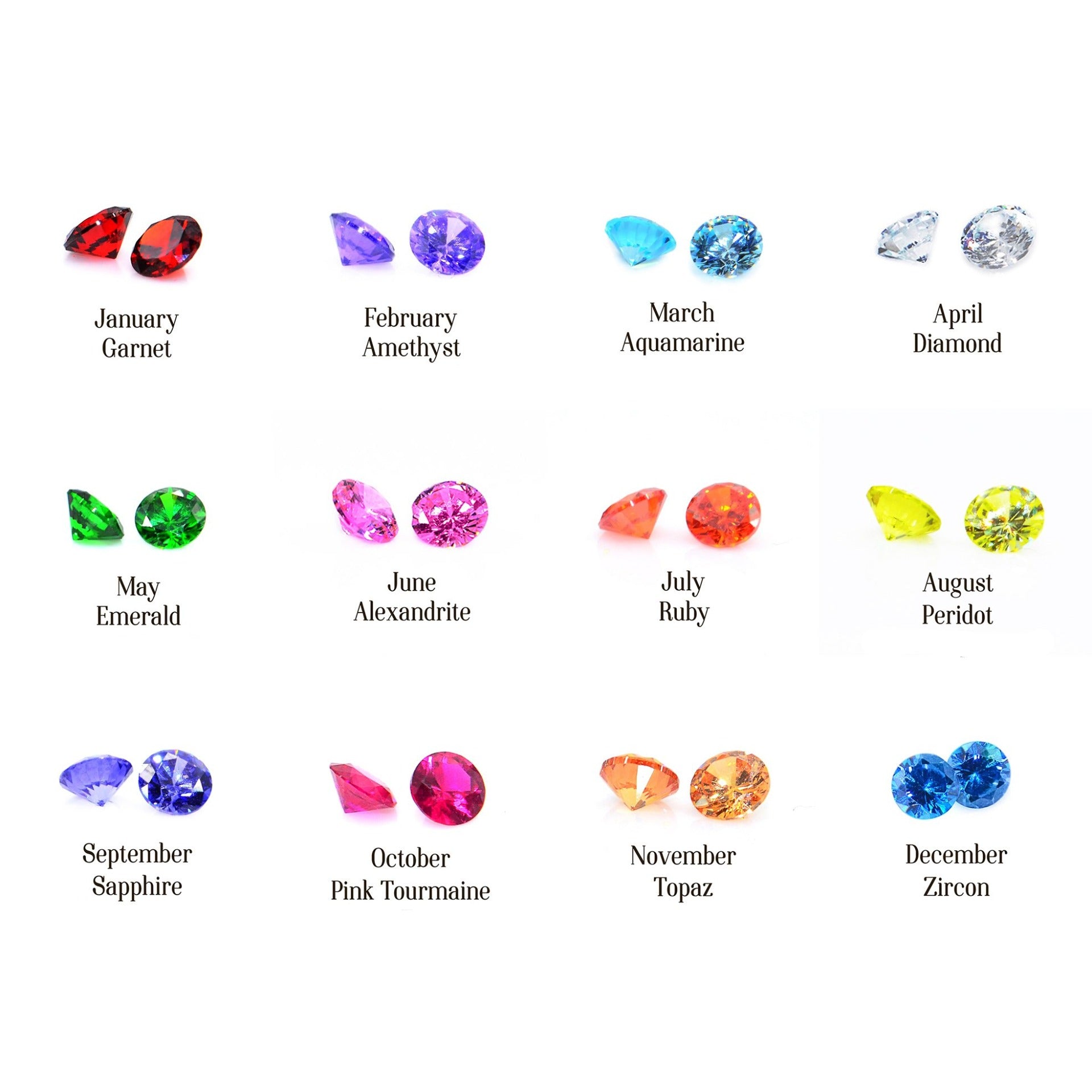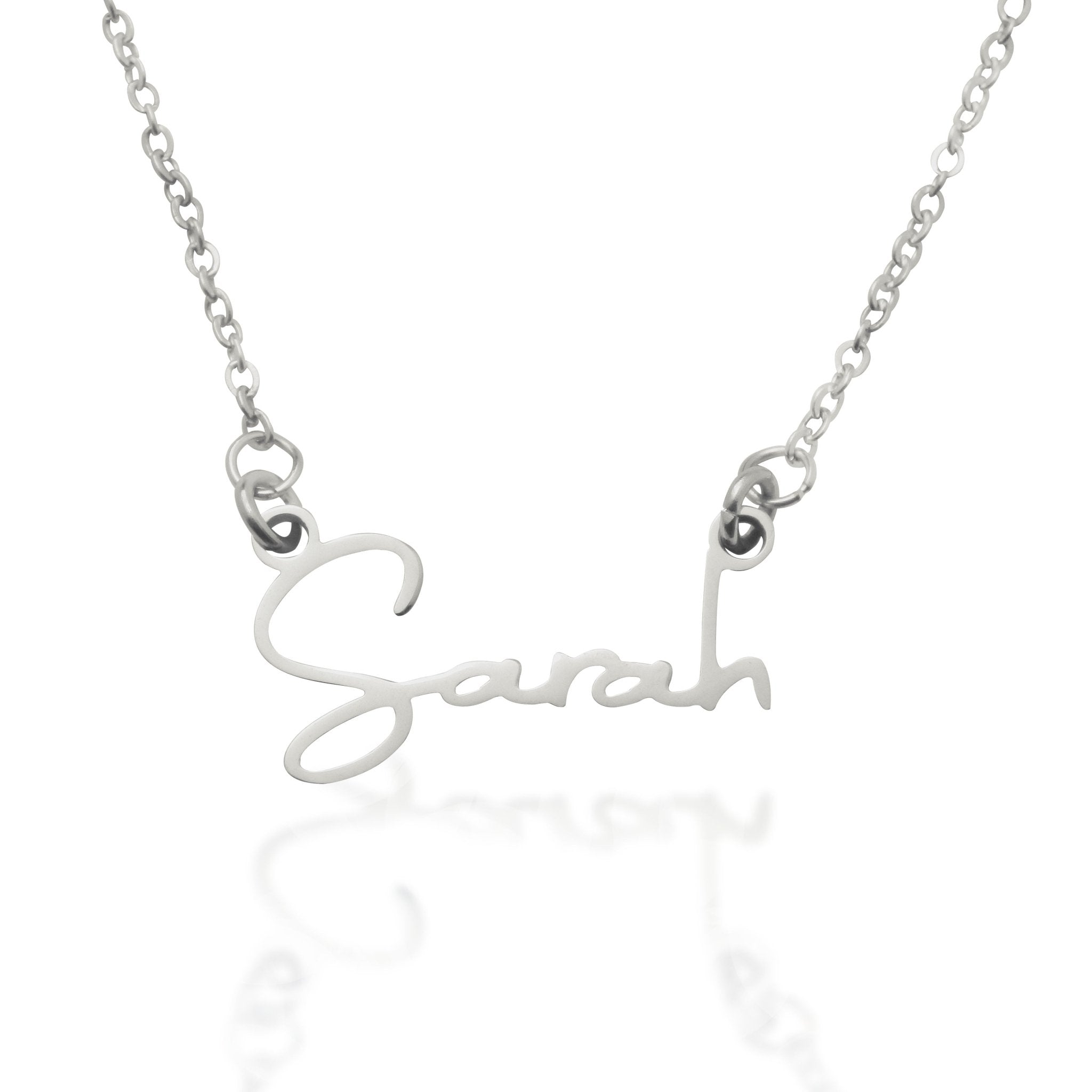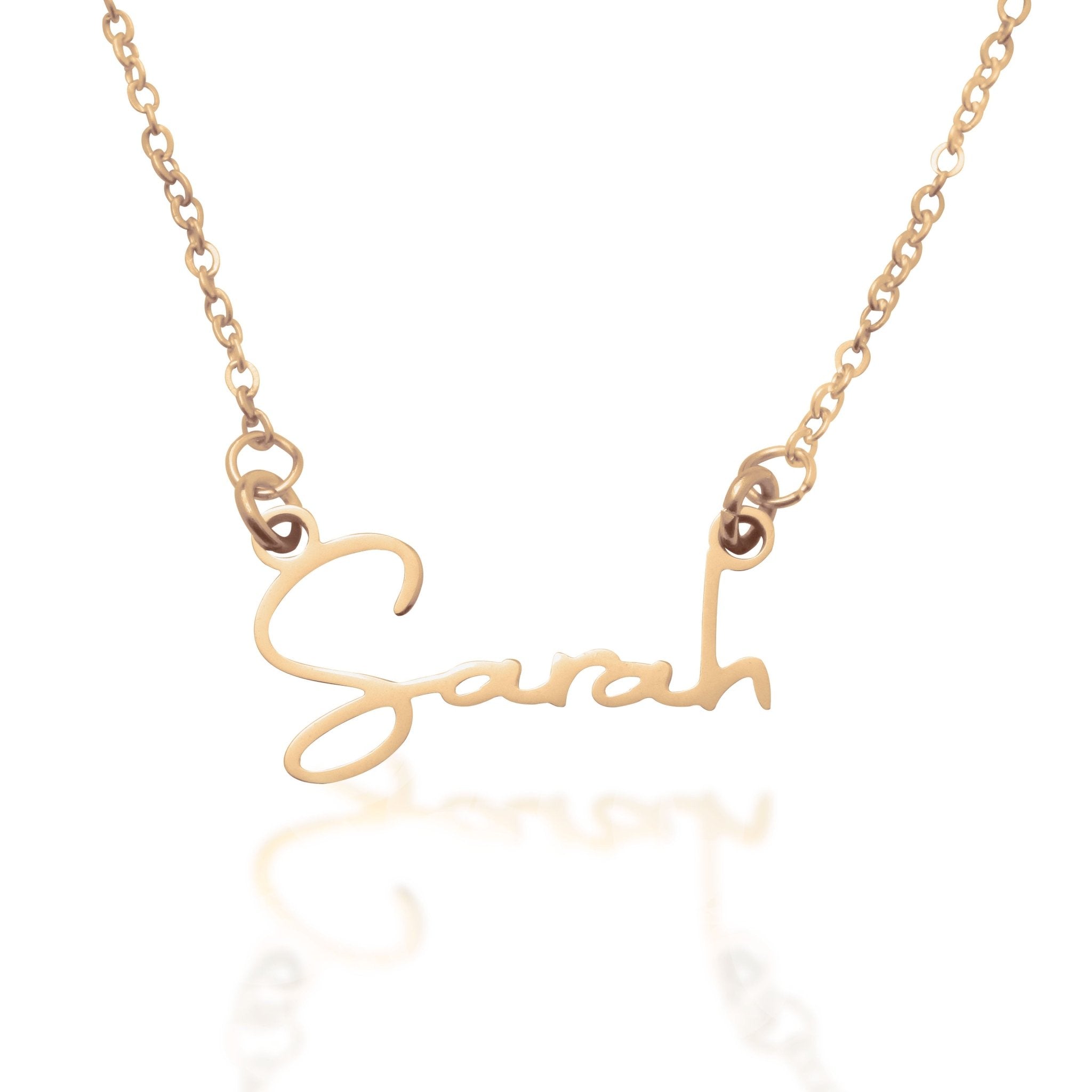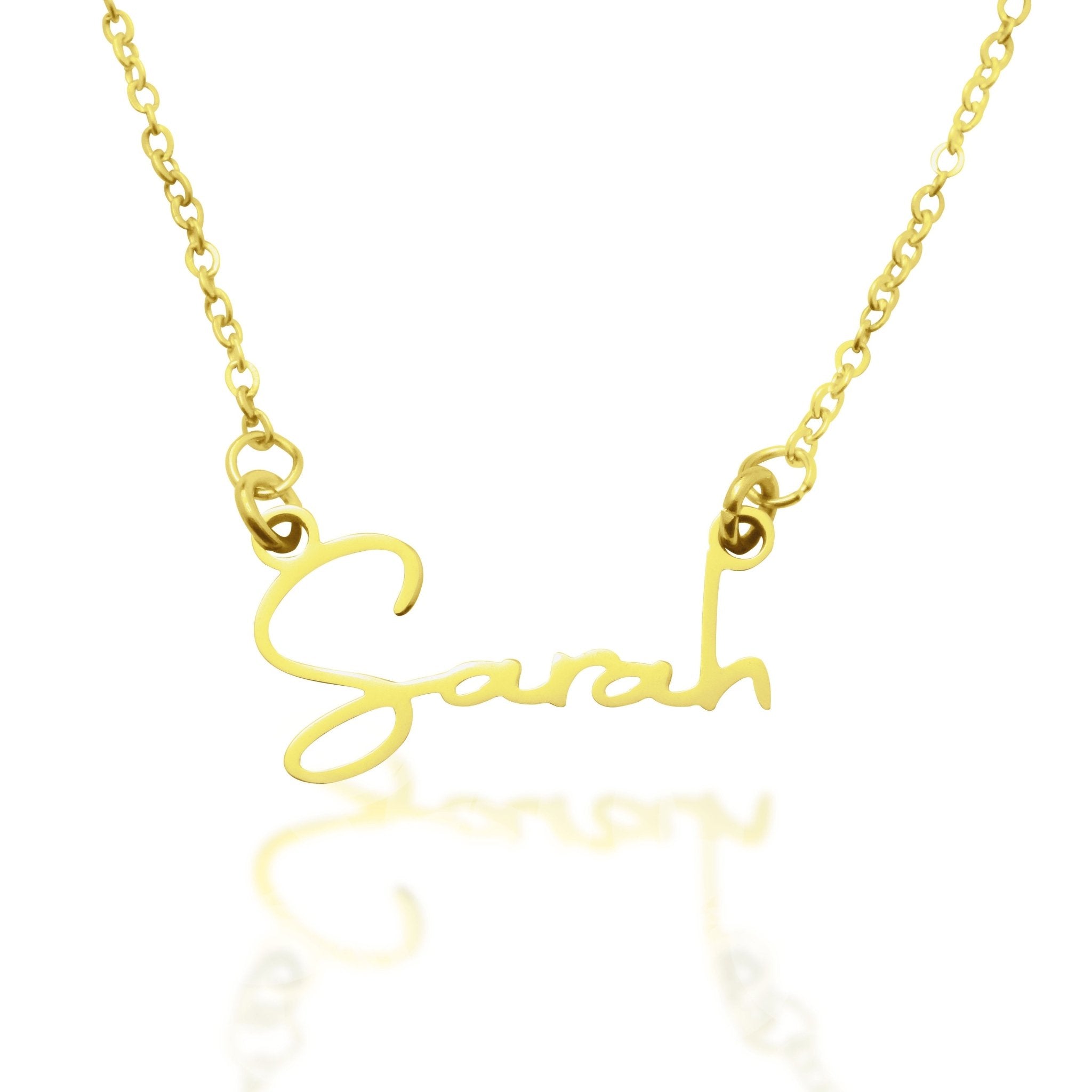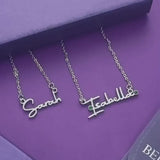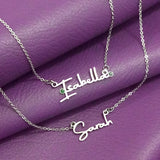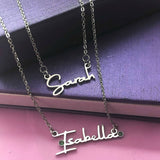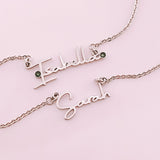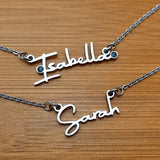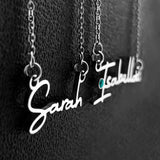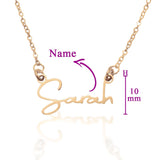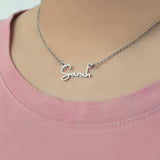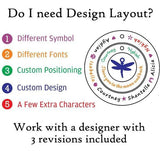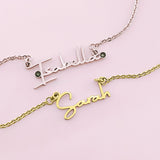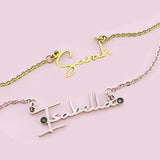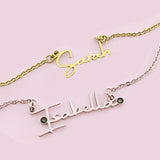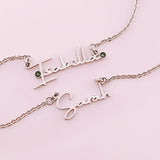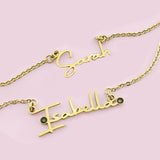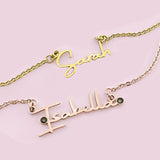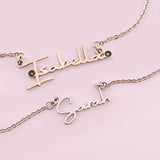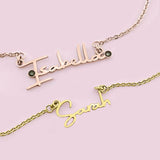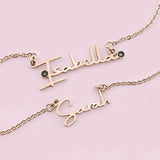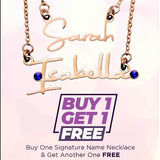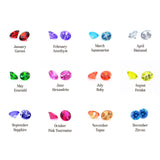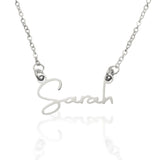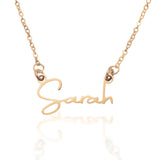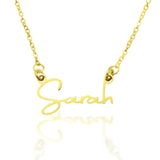 BUY ONE GET ONE Signature Name Necklace
Special Offer
+$20 Upgrade to Gold or Rose Gold (Optional)
+$5 for 2x extra ornaments (Optional)
+$8 for 2x extra birthstones (Optional)
*Offer is not valid in conjunction with any other offers, discounts, or promotions.
$59.00
Regular price
$118.00
---
BUY ONE GET ONE Signature Name Necklace (Birthstones Optional)
$59.00
Regular price
$118.00
Show Off Your Personality And Individuality. Perfect For Any Occasion!
Spark conversations and showcase your personality with our necklaces adorned with names, numbers, and symbols, a must-have for women who love to share their uniqueness!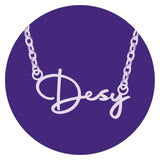 WEAR YOUR IDENTITY PROUDLY
Women can rock a fashionable look while showcasing their one-of-a-kind personality by wearing their name around their neck.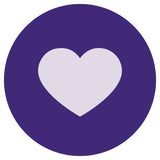 ADD MEANING TO EVERY DAY WEAR
A personalised necklace is a fabulous gift for Mother's Day, birthdays, Christmas or just cause you adore someone to bits!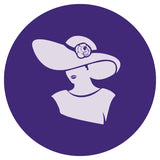 EXPRESS YOURSELF IN STYLE
A custom necklace is like a window to your soul; it reveals your essence, beliefs, and origins. Forget about name blunders for good!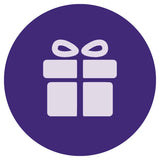 UNIQUE GIFTS FOR FRIENDS AND FAMILY
Get ready to make your peeps smile with these personalised necklaces - perfect for birthdays, holidays, or just 'cause they're special!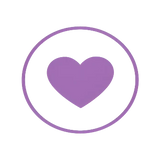 The 100% Love it Guarantee!
If you're not head over heels for what we conjure up, fear not! We'll keep refining it until you are! Our one and only mission is to wow every customer with an extraordinary experience, fulfilling their every desire and whim.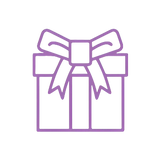 Gift Ideas That Make A Difference
Reveal your adoration through unconventional means with our custom-made necklace designs that possess deep significance.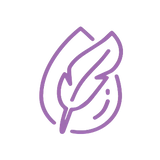 Quality Materials
You deserve top-notch bling that stands the test of time, we only use the crème de la crème of materials, so your personalised name necklace will be drop-dead gorgeous for years to come!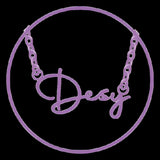 Personalised Design
Your necklace design is super original and personalised just for you! Explore our eclectic selection of cool designs, fonts, and tones that will complement any occasion or style.
★ ★ ★ ★ ★
"I got a custom name necklace for my daughter's 16th birthday and it was more beautiful than expected and she absolutely loved it"
- Rutger T.
★ ★ ★ ★ ★
"I ordered 4 of these Name Necklaces for my bridesmaid's boxes and I was not disappointed! They are made to perfection and completed the boxes perfectly!
Thank you so much! My only regret is not getting myself one!"
- Larissa
Get the perfect gift for your loved one!
100% Love It Guarantee
Everyone deserves to feel special. We make it easy and affordable to give a special gift that will be cherished for years.
How To Get Your Free Signature Name Necklace

Choose Your Tone
Choose your bling! Pick the tone and chain length for your necklace. It comes in Silver, Gold, or Rose Gold!

Personalise Your Necklace
Choose a name, word, symbols, and meaning that'll make your necklace pop!

Get Your Free Necklace!
Start personalising your Free necklace right away. We'll match the style to your initial necklace, unless you have other preferences. Keep in mind that any tone upgrade will be visible on the initial necklace.
FAQs
Can I get 2 different tones for each necklace? such as one in Silver and one in Rose Gold?

Get a free necklace that matches your initial Signature Name Necklace! Want to change things up? No worries! Just leave us a note in your order. And if you upgraded the tone with the first necklace, we'll give you a free upgrade for your other necklace too!

For instance, if Signature Name Necklace 1 is gold or rose gold, you have the option of Signature Name Necklace 2 in silver, gold, or rose gold.

Note: Personalised Jewellery in Rose Gold is becoming increasingly popular.
How long does it take?

Our Signature Name Necklaces are meticulously handcrafted and personalised to your exact specifications, including any additional ornaments or birthstones. It takes 2-3 weeks to create your Silver Signature Name Necklace and an additional week for Gold or Rose Gold. The wait is worth it for a beautifully crafted and uniquely personalised piece.
Can I add special symbols, accents or birthstones to my Signature Name Necklace?

Personalisation is important to our customers. You can add special symbols, birthstones, and accents or even select different language characters to make your name necklace unique.
Do you offer a satisfaction guarantee?

Your satisfaction is our top priority, and we won't rest until you're thrilled with your Personalised Signature Name Necklace.
Can I track the status of my order?

After your order is shipped, we'll give you a tracking number for easy progress tracking and delivery time estimation of your Signature Name Necklace.
What if I need assistance with my order or have a question?

Our customer support team is available to assist you. Contact us via email or phone for any questions or order assistance.
See Our Other Great Deals:
Love the buy one get one free name necklaces!!!!
This is the 2nd time I have bought the yellow gold name necklaces. The first 2 I bought were for my own daughters over a year ago. The gold has not tarnished or worn off at all, even with showering or swimming etc. Now the 2nd lot are gifts for my nieces as they love my daughters so much. I can't recommend these necklaces more highly, every aspect of them is perfect! They are worth every penny!!!! Love, love, love them!!!!! Thank you Belle Fever!!!!
Both my necklaces were without the birthstones.
I am very happy with both my purchases, I am sure my granddaughter and daughter will love them.