Get Two For The Price Of One With A Personalised Knot Bangle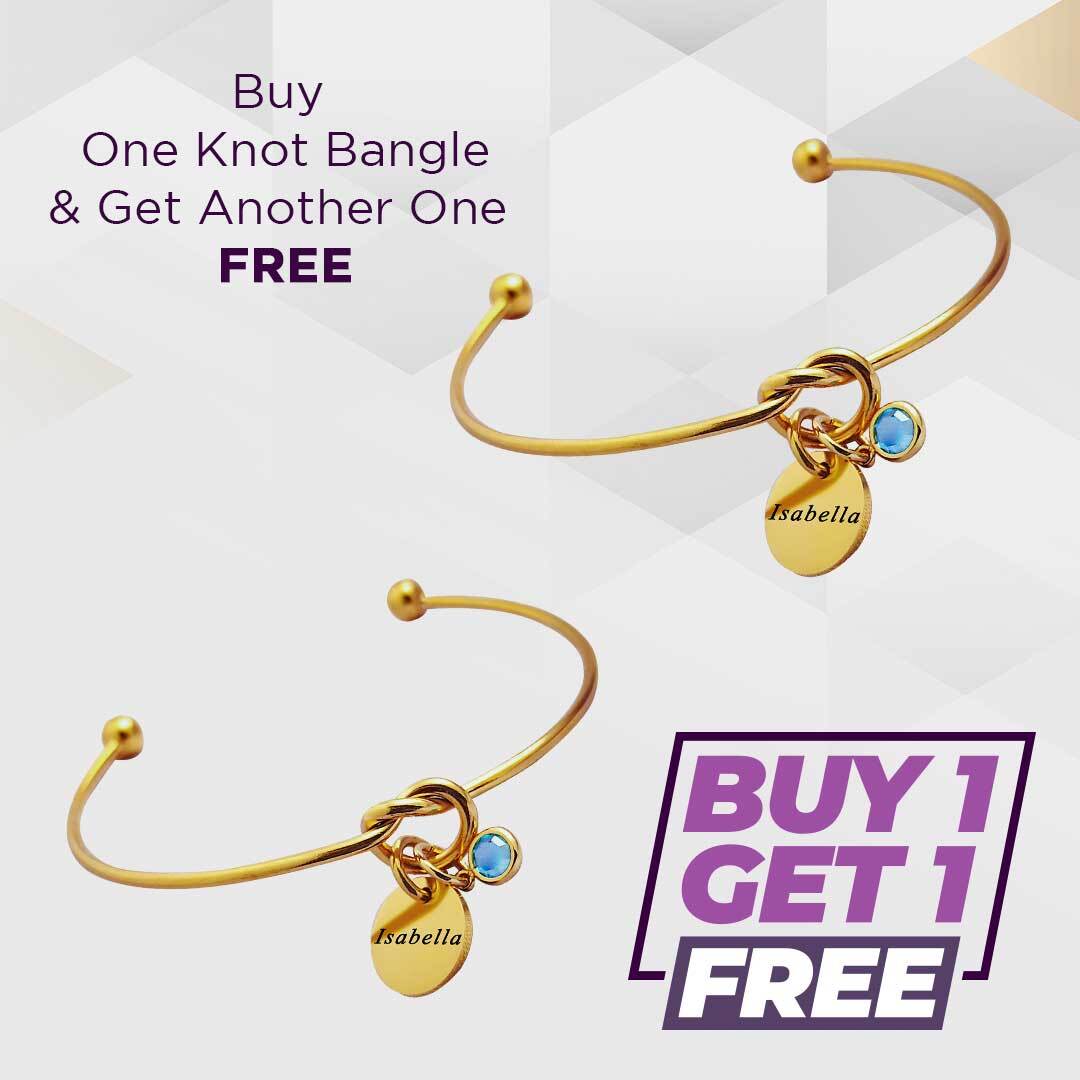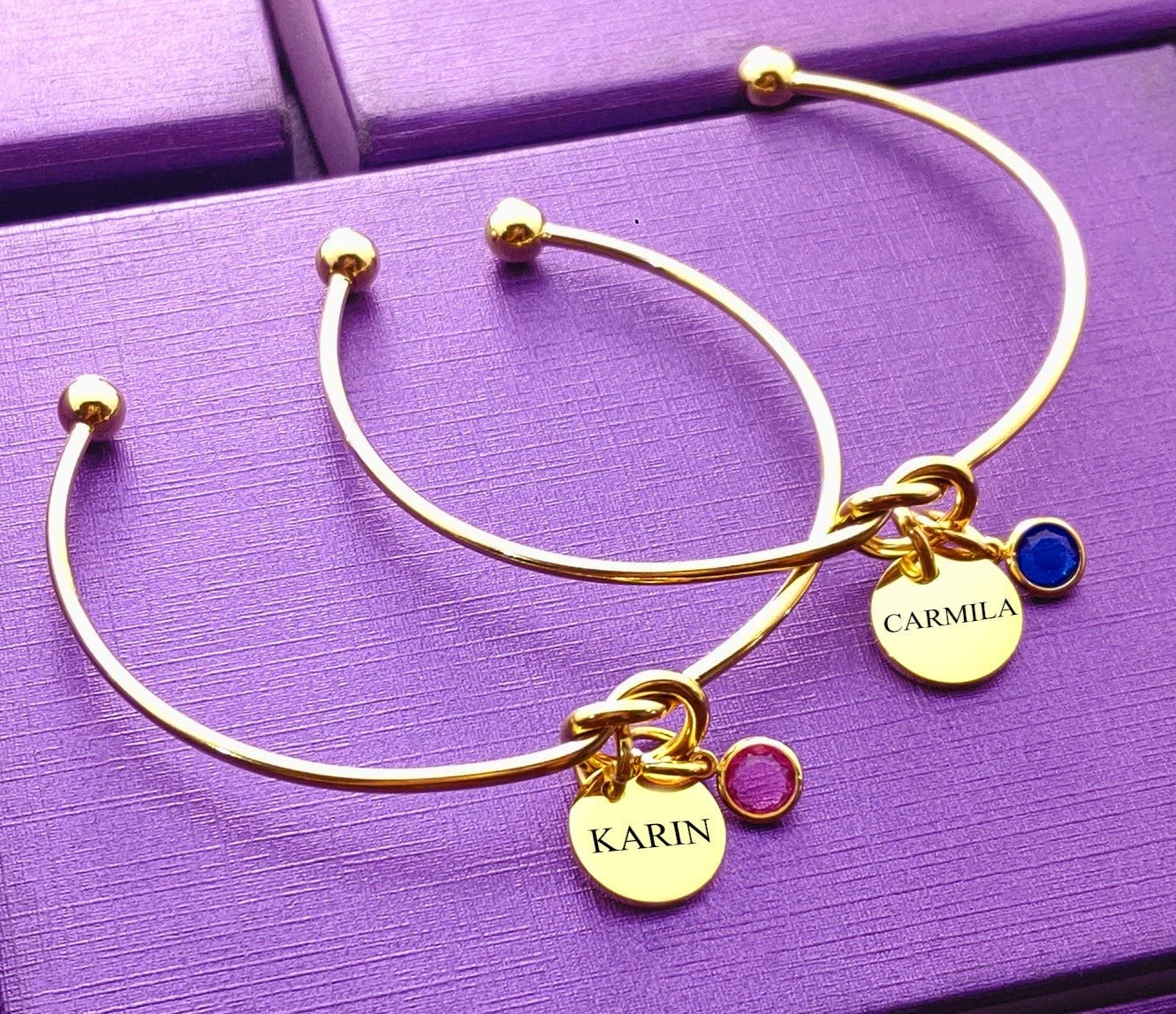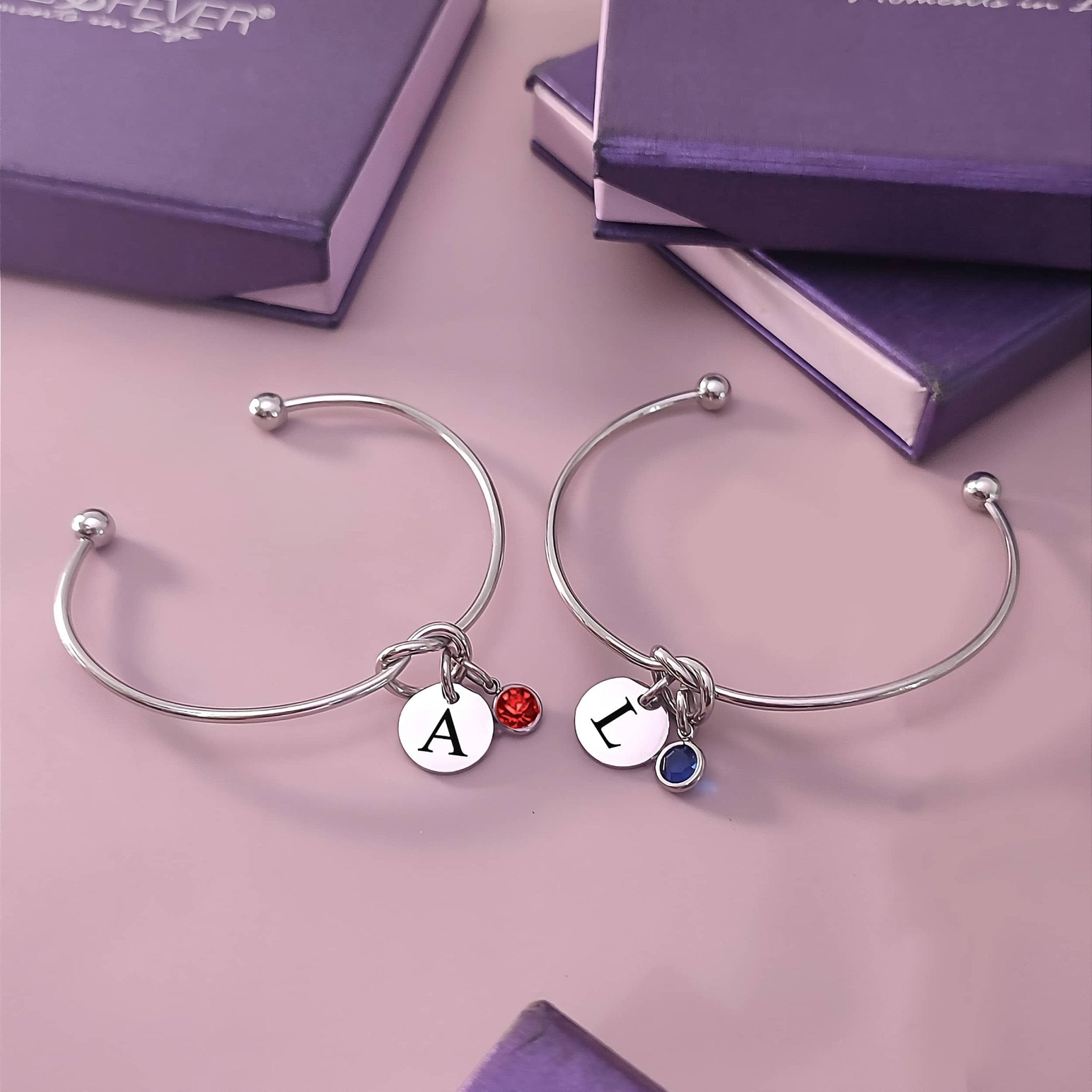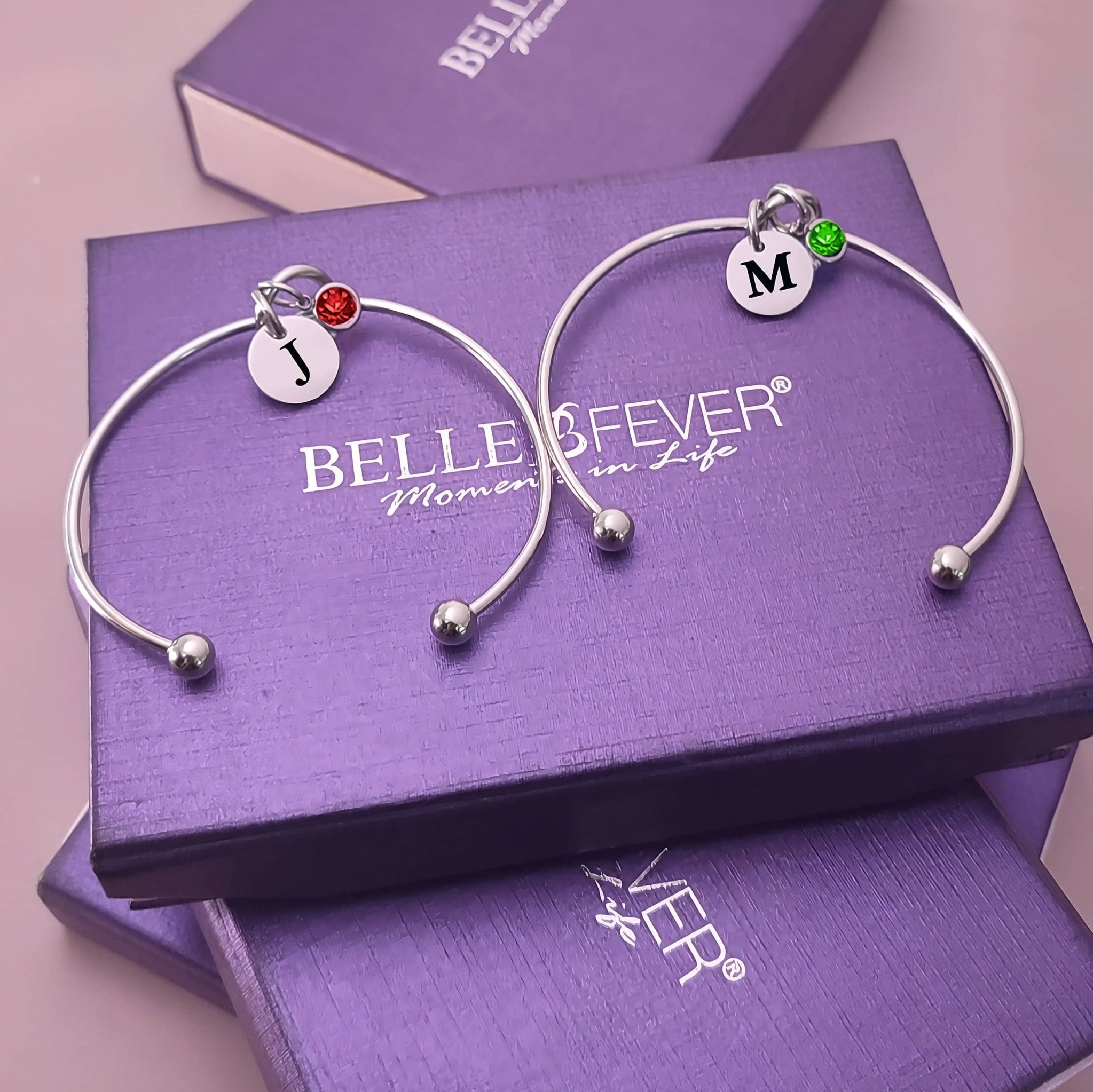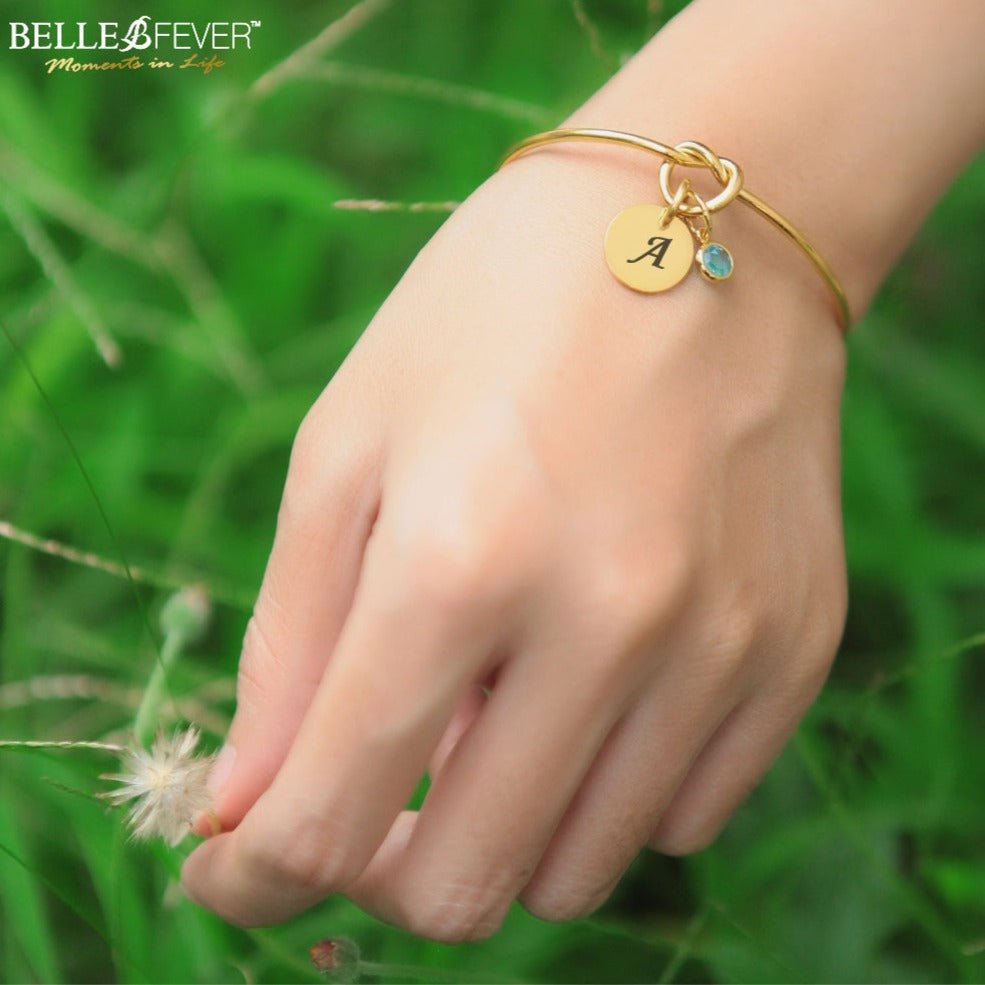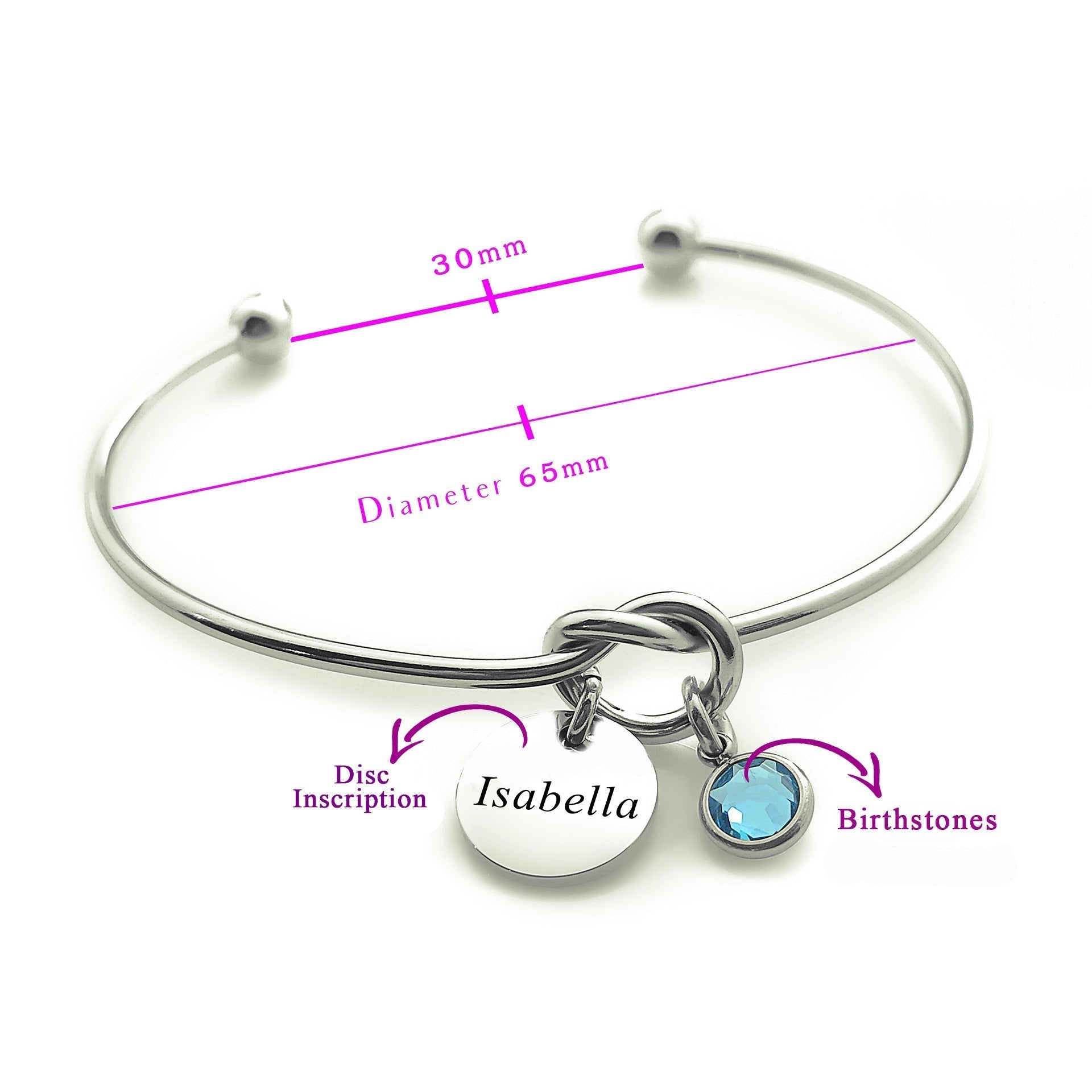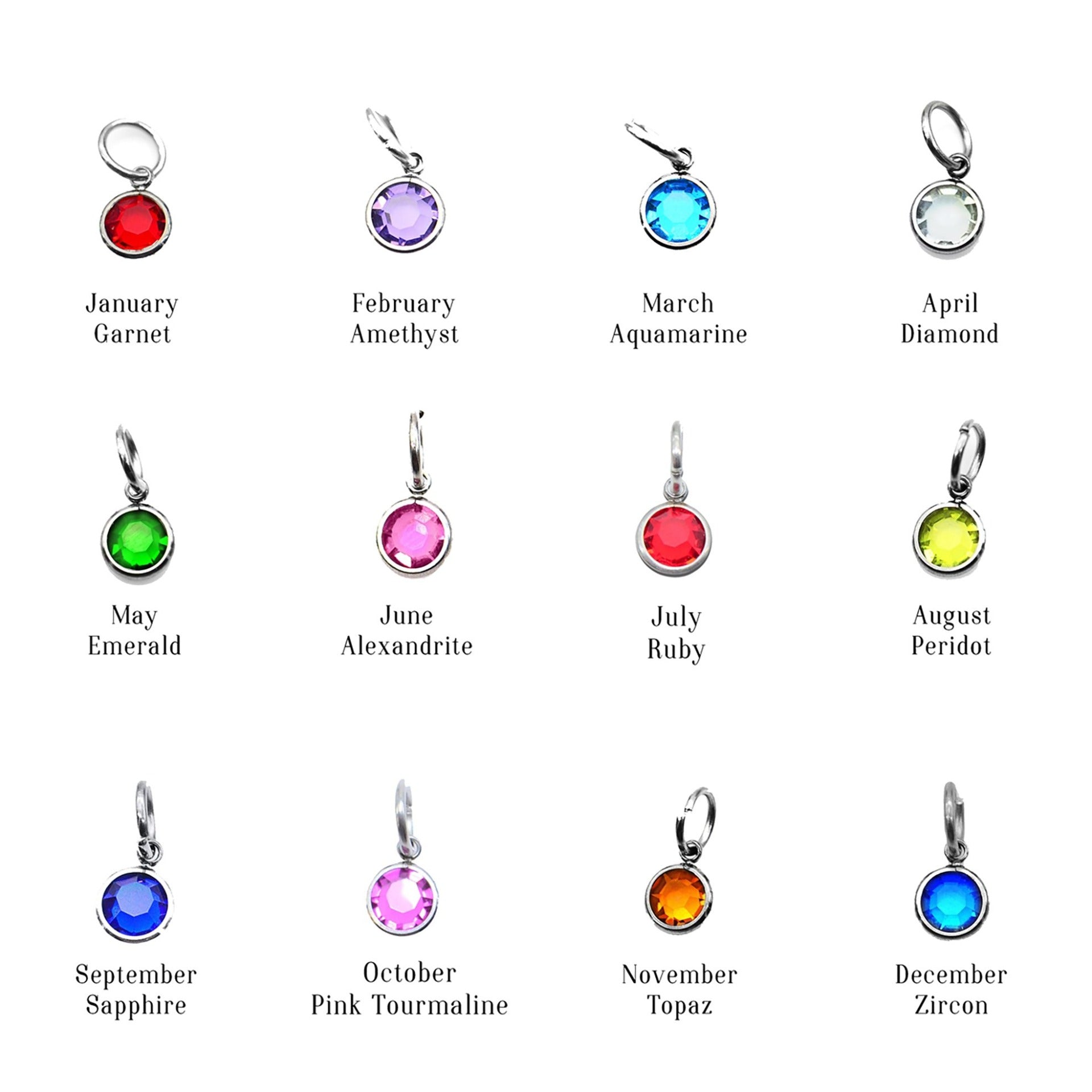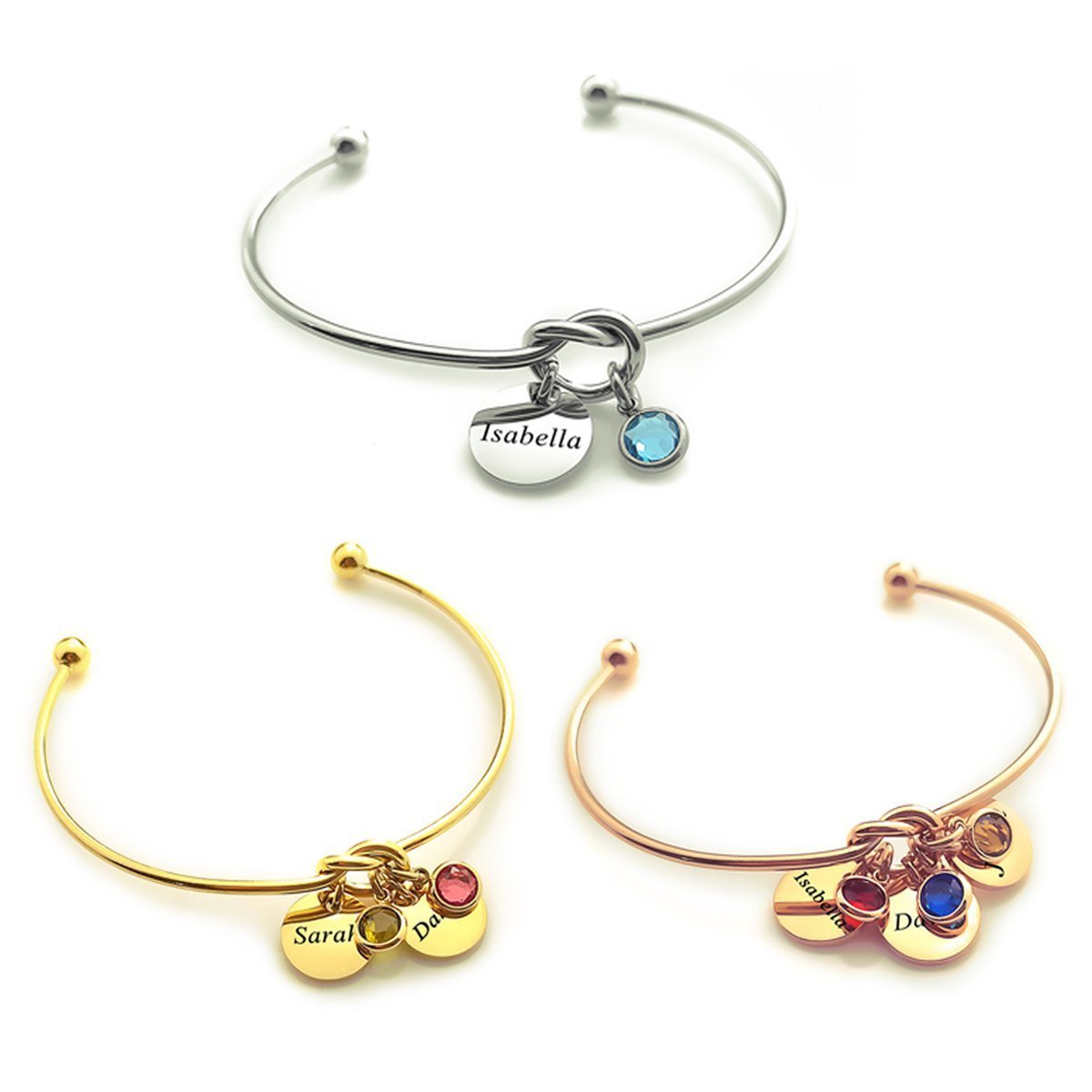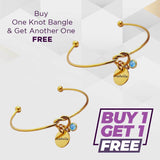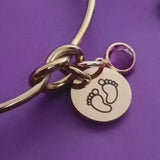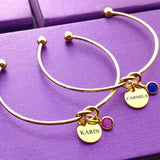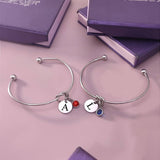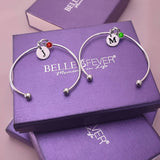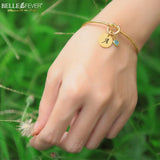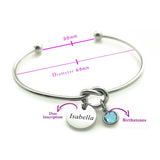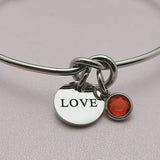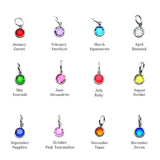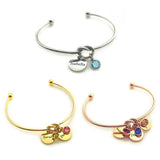 BUY ONE GET ONE Personalised Knot Bangle
Special Offer
+$20 Upgrade to Gold or Rose Gold (Optional)
+$10 for extra disc charms (Optional)
+$6 for extra hanging birthstone charms (Optional)
*Offer is not valid in conjunction with any other offers, discounts, or promotions.
$48.00
Regular price
$97.00
---
BUY ONE GET ONE Knot Bangle with Disc Charm & Birthstone
$48.00
Regular price
$97.00
Celebrate Your Distinctive Style and Make a Lasting Impression.
Looking for the perfect accessory that screams YOU? These Customised Knot Bangles with charms and birthstones are just what you need!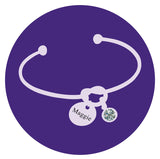 YOUR UNIQUE IDENTITY IN STYLE
Bedazzled with your preferred etched trinkets, these posh adornments infuse a touch of elegance into any ensemble, enabling you to reveal your authentic self with utmost flair.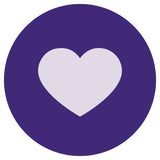 MEANINGFUL ACCESSORIES
Whether it's a heartfelt token for those special times or a personal keepsake of love and kinship, these bangles infuse significance and sentimental value into your daily style.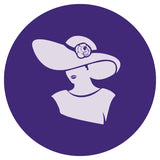 YOUR UNIQUE INDIVIDUALITY
Unleash the magic of self-expression with our Personalised Knot Bangles. Crafted to celebrate your true self, these bracelets are a mirror of your extraordinary journey.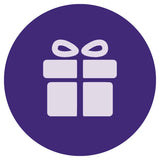 CELEBRATE SPECIAL MOMENTS
These stunningly crafted bangles aren't just ordinary accessories – they're heartfelt presents that flaunt your caring side and commemorate the extraordinary bond you share with your loved ones.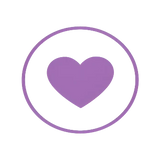 The 100% Love it Guarantee!
With meticulous attention to detail, every bangle reflects the recipient's individuality and style, making it a truly special gift that will be loved for years to come.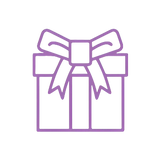 A Lasting Impression
Individually handcrafted bangles that perfectly embody the recipient's unique flair and fashion sense, resulting in a truly unforgettable gift that will be treasured forever.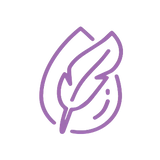 Exceptional Craftsmanship
Expertly crafted bangles made with the finest materials, ensuring outstanding quality and resilience.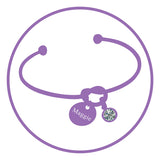 Unleash Your Creativity
Let your personal flair shine through with our wide array of design choices, fonts, and tones. Whether you're all about that clean and classy look or crave something bold and full of life, our Knot Bangles can be tailored to suit your individuality.
★ ★ ★ ★ ★
"I love my Knot Bangle I got for Mother's Day! It's one of 4 pieces I have from Belle Fever with my kids' names engraved. Very glad it fit on my large wrists too! Thanks guys! 😍😍😍"
- Aimee O.
★ ★ ★ ★ ★
"Love my bangle so much! I have been looking for a bangle for a long time with my kids' names on it. It was just what I was looking for. Thank you so much. Super fast and great communication. 😊"
- Ruth C.
Get the perfect gift for your loved one!
100% Love It Guarantee
Everyone deserves to feel special. We make it easy and affordable to give a special gift that will be cherished for years.
How To Get Your Free Personalised Knot Bangle

Choose Your Perfect Bangle Tone
Embrace your individuality with our Knot Bangles, handcrafted to complement your personal taste whether it's the timeless splendor of silver, the lavish magnetism of gold, or the poetic allure of rose gold.

Customise Your Unique Charm
Pick a meaningful message, a special date, or a name that's super important to you. Plus, go ahead and choose your birthstone charm to add an extra splash of personalization and symbolism!

Customise Your Free Knot Bangle
Make your order unique by adding an inscription for the charm and selecting a birthstone for your Free Knot Bangle.
FAQs
Can I get 2 different tones for each bangle? such as one in Silver and one in Rose Gold?

Choose from Silver, Gold, or Rose Gold for the Personalised Knot Bangle. Your free bangle will match the tone of your first bangle for a cohesive look. If you want a different tone for the free bangle, mention it in the order notes. Upgrading the tone of your first bangle will also upgrade the free bangle.

For instance, if your first Knot Bangle is in gold or rose gold, you have the choice to have your second Knot Bangle in silver, gold, or rose gold, while maintaining the desired aesthetic for your bracelet set.
How long does it take?

We are dedicated to shipping your personalised bangle within just 7 days of ordering, so you won't have to wait long to enjoy your exquisitely crafted piece.

Crafted with expertise and attention to detail, our Personalised Knot Bangles are truly special. Each bangle captures your unique style, ensuring a high-quality and distinctive piece.
How many characters can fit on each charm?

To ensure the best visual appeal, it is advisable to limit the name inscriptions on our disc charms to a maximum of 9 characters. However, we recognize that certain names or words may surpass this limit.

Our skilled artisans can adjust font size to accommodate more characters, ensuring clear, legible, and aesthetically pleasing inscriptions on your bracelet. Feel free to personalize your charm with any meaningful name or word of your choice; we will make it work beautifully.
Do you offer a satisfaction guarantee?

Your satisfaction is our top priority, and we won't rest until you're thrilled with your Personalised Knot Bangle.
Can I track the status of my order?

After your order is shipped, we'll give you a tracking number for easy progress tracking and delivery time estimation of your Personalised Knot Bangle.
What if I need assistance with my order or have a question?

Our customer support team is available to assist you. Contact us via email or phone for any questions or order assistance.
How many disc charms do I get for the Free knot bangle?

Customize your FREE Knot Bangle with the same number of disc charms and birthstones as your first Knot Bangle. Select matching charms for both bangles at no additional expense. This allows you to fashion a harmonious and personalised aesthetic that embodies your unique style and personal story.
Can I have different names or words for the Free knot bangle?

You are able to personalise your second FREE Knot Bangle as well. Enter the desired inscriptions in the provided box for the 2nd FREE Knot Bangle Inscriptions. This allows for an extra level of meaning and personalisation to be added to your matching set of bangles.
See Our Other Great Deals:
Knot Bangle and charm
Bought this for my daughter and myself. Absolutely love them.
Beautiful jewellery
All of the Belle Fever jewellery is absolutely amazing, I have had lots of different designs, and I cannot fault the quality or design,so much love and care in every piece. Patricia Beales.
Knot Bangle with Disc Charm & Birthstone
Beautiful. perfect for my grand daughters
Knot Bangle
My niece absolutely LOVED her knot bangle that we gave to her for her 21st birthday! Great quality and service!
Awesome
Thank you the buy one get one free knot bangle with charm and birthstone are amazing my daughters love them. Would highly recommend you guys to everyone